Achieving a high ROI is the main objective for many businesses. Here's how to do it.
Did you know that 90% of customers would rather change their service provider than wait in long queues? In order to provide customers with what they want, it is crucial to provide a Queue Management System that's suitable for their needs and expectations.
The customer experience (CX) is as important as increasing your business' ROI. And yes, one is dependent on the other. If customers are happy with the service they have access to, the finances and time invested by the enterprise will pay off with increased revenue.
To achieve a high ROI it is fundamental to know what ROI stands for and why it is important for businesses to take it into account. ROI means "return on investment." It is a common term used to identify past and potential financial returns. A high or low ROI indicates how successful or not a venture will be. So, in order to provide a good service and have a successful business that's a good environment for its employees and its customers, managers and executives should know how to measure their return on investment.
So, what does a high ROI has to do with a Queue Management System?
A Queue Management System is used to control queues and to provide customers with an automated experience that allows them to have control of their time, as well as receive updates when needed. For example, it lets the customer or patient know what information they need to provide, as well as updates on their place in line. This gives them total control over their time and location.
In other words, to achieve a high ROI, businesses need to put their customers first. They are the main characters, and they make the choices. Having customers discontent by adding minutes to their wait time could cost the business tens of hundreds of sales on a daily basis. This is why companies worldwide are rapidly adopting digital solutions. The customer experience and customer journey are important to a business. Using queue management to manage the daily customer flow keeps the CX positive and the journey easy and quick.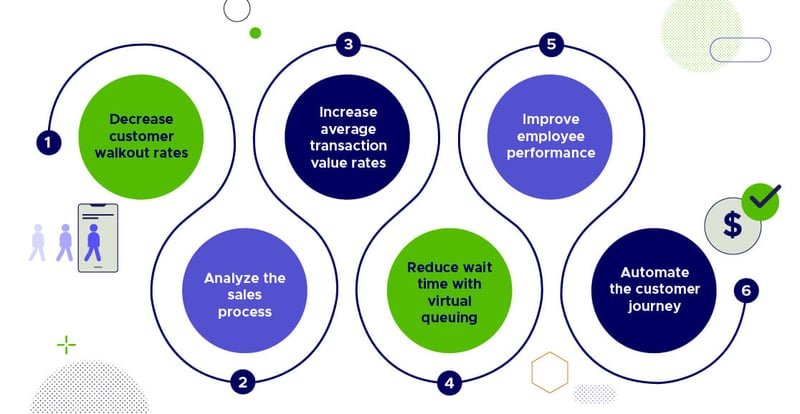 How to reach your business goals and make customers happy
Queue Management Systems can be found everywhere, from schools to hospitals, banks to government offices, HR offices, and fast food chains. No matter the business and its specialty, a queue management system can help. An automated system is crucial to transforming the customer experience and to keep the customer satisfied with the service or solution they are choosing.
As discussed, a queue management system has a lot of benefits, and it has the ability to improve a lot of areas. At the same time, it can be very helpful for the staff since it simplifies and improves their workload as well.
Here are six reasons how this solution can help you achieve a higher ROI:
Decrease customer walkout rates:

One of the main reasons why businesses perish is because they do not have the ability to retain existing customers and, at the same time, bring in new ones. How do you change your customer retention rates?

It is important to pay attention to what customers are demanding. Not only the service they are seeking but the experience they want to have while investing their time and money into a business. Customers do not like to wait in long lines and will often abandon a purchase or service if they spend too much time waiting. They demand quick and easy access to services and products.

By applying new technologies that are accessible 24 hours a day from anywhere, customers are assured that their top priorities and demands are being taken care of. When the customer is confident in your ability to provide them with great service, they are less likely to walk-out and more likely to share their experience with others, ultimately boosting your customer base and ROI.



Analyze the sales process:

It is important to count on a clear, fast, and efficient sales process. The customer needs to know where to find the product, how to access it or purchase it, how to contact the business if there is any concern, doubt, or question about it, and how to check out.

If the process is not straightforward or fast, the results won't boost your ROI. No one likes to be left waiting, so it is essential to improve the customer flow and recognize where strengths and weaknesses surface. By doing so, your business will be able to fix the wrongs and sustain the rights.

It is crucial to know what customers are looking for and what their challenges are when trying to access that service. Giving customers a personalized service shows that the company cares.



Increase average transaction value rates:

A queuing system can help customers save time since they enable operational efficiency from the staff. At the same time, it also improves average transaction rates in-store. By reducing customer wait times, staff have more time to serve customers, offer more products, and up-sell or cross-sell to increase value per visit.


Reduce wait time with virtual queuing: One thing every company has in common is that if they keep their customers waiting, there will be a negative impact on their journey. As a result, there will be a decline in sales, which can affect the business if it's not fixed in time. 70% of sales drop when the wait time is too long. As a result, the ROI drops.

Virtual queuing consists of letting customers sign in for the queues in a remote/virtual way. It is the most modernized form of queue management so far. Customers can issue a mobile ticket or sign in without being present at the branch. This optimizes CX since they can use their time to do other things, and be notified of any updates when necessary.

One example that highlights the success of a Queue Management System is Banco Davivienda

.

The business needed to change the way its banking services had been operating for years by reducing the amount of time spent queuing. By using the ACF's Queue Management System, 80% of Davivienda customers experienced less than a 10 minute wait with a traditional ticket. Further, 100% of the customers that used Daviturno Web (Virtual Queuing) reduced the wait time to less than a minute.



Improve employee performance:

If the business uses traditional queue management, it means that its workers have to do all the processes manually, which affects and slows down their performance. As a result, customer flow turns out to be slower, affecting ROI negatively.

A queue management system eliminates these problems by enabling an automated workflow for staff. By automating workflow processes, the staff has more time to spend on improving the CX.

This allows employees to focus on their primary tasks and help customers more efficiently. As a consequence, businesses that provide a good working environment positively impacts the business' growth and reputation.



Automate the customer journey:

An automated system saves time by speeding up the whole process. It enables businesses to automatically manage all touchpoints and interactions of the entire customer journey. This creates an improved customer flow and experience and, as a result, a higher ROI.

Further, automation will result in a higher customer loyalty rate because when customers are satisfied with their service, they will continue to return to your company for their required services.
ACF Technologies provides a solution at every step
Boost your company's ROI by applying a Queue Management System that works to improve the customer journey by speeding up back-office workflows and automating appointment management. By doing so, your business will be able to save time and money on staff inefficiencies, increase sales due to automated tasks, allowing more time for staff to focus on the customer.
ACF Technologies aims to make customers and businesses happy. Our software helps manage customer flow, get real-time insights to optimize customer experience, and makes it easier for employees to understand the process and focus on customer satisfaction. Contact us to learn more or schedule a demo today.