ABOUT Davivienda Honduras
Davivienda is a Colombian bank that is part of the Empresarial Bolivar Group, which has helped people, families, and companies meet their objectives for more than 75 years.
Recognized for their unique management style which is achieved through effective communication, they are one of the five most valuable brands in Colombia and the first bank to receive public recognition in the country.
They have a diverse portfolio of products and services designed to meets the needs of people and companies in the agricultural, mining, and energy sectors, providing innovative solutions and exclusive initiatives for each segment.
Davivienda has more than 17,000 employees, serving more than 10 million customers in 725 offices, and has around 2,600 ATMs across the region. In addition to its headquarters in Colombia, Davivienda has offices in Panama, Costa Rica, Honduras, El Salvador, and Miami in the United States.
The Challenge
Davivienda Honduras also needed to change the way their banking services had been operating for years, to reduce the long lines in which customers needed to wait. This was causing frustration for their customers – in contrast to Davivienda's goal of serving customers with excellent communication. They decided it was time to improve their services – but realized that the culture, behavior and operations activities wouldn't change overnight.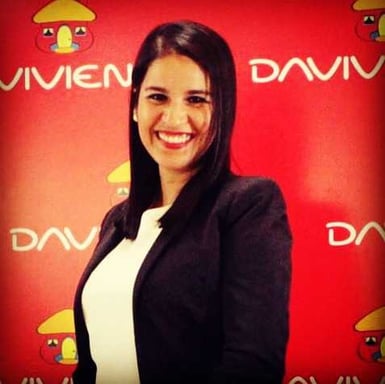 Ginna Miller, Marketing Manager, Davivienda Honduras
Ginna Miller, Marketing Manager says, "At Davivienda, we are always innovating, trying to provide different experiences for the benefit of our customers". They needed a planned approach, over a period of time, and an innovative solution that would allow customers to own their time by doing their banking more quickly.
The Solution
First, they began by forming a multidisciplinary team with the goal of ending queues and wait times at their branches. This team analyzed the behavior of their customers and the queues and looked at the areas where they could take action in various ways. They focused on:
Optimizing processes to improve the customer experience.

Putting systems in place to provide information in real time and improve operational efficiency at the same time.

Personnel management and perception. This had to be carefully managed to take into account the fact that this macro project would involve processes, personnel, and directly impact customers, in addition to reducing wait times.
The team at ACF Technologies proposed installing Q-Flow Solutions, a web-based system that generates information in real time to direct, organize, and optimize performance at various different services across the branch in order to improve their customer experience.
During the first months after implementation, the behavior of the branches was analyzed, which revealed that not all branches behave the same way.
After six months, with the help of the information obtained from the Q-Flow reports, Davivienda defined rules to measure and monitor unusual wait times, using an alert module called Herald which could be monitored through the control dashboard.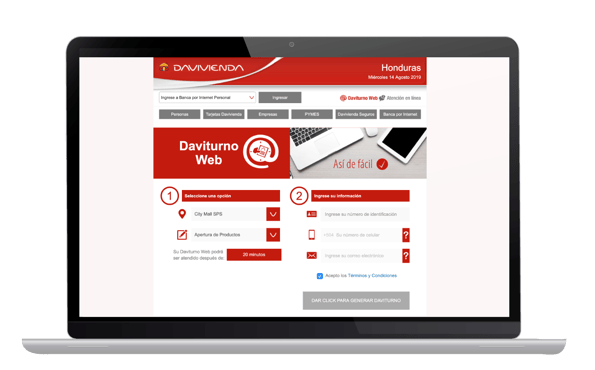 Daviturno Web-ACF Virtual Check-In
The Results:
Using the ACF Technologies (Q-Flow) solution, 80% of Davivienda customers experience less than a 10 minutes wait time with a traditional ticket.

100% of the customers that use Daviturno Web (Virtual Check-In) reduced the wait time to zero minutes.

Davivienda gained significant improvements in customer satisfaction and loyalty. The complaints book has become a congratulations book.

Thanks to Q-Flow, the two innovative solutions in Davivienda: Daviturno Kiosco (Ticket SMS) and Daviturno Web (Virtual Check-In), the bank has been able to save time for both customers and employees in these branches.
Behind the scenes, the real-time reports and alerts they now have in place are facilitating the decision-making process, resulting in immediate actions being taken to improve service levels in the moment.

An overall reduction in the percentage of no-shows, combined with new operational efficiencies and a general increase in customer satisfaction levels, is directly returning the investment made for the solution.
The results are impressive in fact, as Henry Barahona, Strategy and Process Manager at Davivienda says, "With this alternative, we not only value the time of our clients, but we also broke down old systems and we are changing the culture of our people, who, for years have maintained the paradigm that to be served, they had to wait in long lines."
How does it work, in reality? At the services level the branches are prepared to offer the best. You can find two ATMs to make your cash transactions faster and a kiosk in which you can self-manage any questions and queries. In addition to improving the wait times, all customers have the options of Daviturno Kiosk and Daviturno Web, platforms that allow visitors to always have the first turn in Davivienda branches in shopping centers.
With these two different banking options, customers are now able to book an appointment online, or use Daviturno Kiosco to enter their requirements at an in-branch service kiosk, then leave the branch to perform other activities and receive an SMS when it is their turn to be served.
Download Case Study