The pharmaceutical sector is adopting technological advances to keep up with customer expectations.
The modern consumer prefers services that save time and money, gravitating toward organizations that give them these options. The pharmaceutical sector understands this new dynamic, which is why it has implemented processes that allow it to quickly and easily reach its customers.
The pharmaceutical sector has gone through endless improvements to evolve from one of the oldest industries to what it is today. That process has involved facing challenges to modernize the industry, including tackling digital transformation. The development of internet and e-commerce services has created the need for pharmacies to automate many of their internal and external operations to improve customer experience.

In order to perform at a high level, pharmacies must adopt digital solutions in their services and tools that improve their business model. This saves personnel costs, increases the speed of care, and offers clients a personalized treatment plan and service options.
Digital channels and personalization of services
Another point that pharmaceutical companies must consider when migrating to digital channels is the personalization of the service. The high volume of customer traffic can present challenges when it comes to personalizing customer service. Closing the technological gap is one of the best opportunities this sector has to meet changing customer expectations. The same digital tools that offer efficiency and automation can also provide the human element that customers want.
The pharmaceutical sector has undergone digital transformation. For example, they can improve the customer experience by offering products and services through a video call management platform that allows personalized communication options.
Here are some of the trends leading the industry's modernization: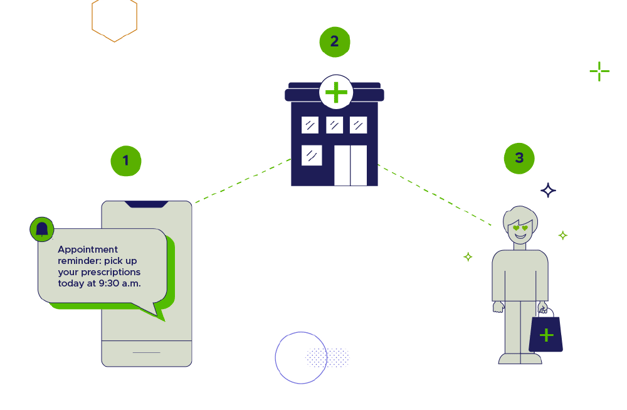 Integration with medical centers
A patient's data and clinical history can be accessed through a system that integrates pharmacies with hospitals or medical centers. This allows for treatment updates, medication consultation, and telemedicine as needed.
Prescriptions can be attached and added directly to the patient's profile, allowing users to automate their recurring medication orders and update their prescriptions in real time. This would also facilitate appointment management, such as prescription pickup or pharmacy consultations.
Different delivery options
A better customer experience also means having different delivery options, even for those who are not tech-savvy. Some options include prioritized shipping, in-store pickups, and delivery through vending machines.
Virtual queue management
A virtual queuing system is a useful tool that helps decongest the flow of customers and patients. With this solution, users can queue through a mobile device or from their computer without being physically present at a pharmacy.
By means of a queue management system, people remotely request a place in line and are assigned a position within the queue. They are then provided with information on wait times and estimated service times, keeping the pharmacy decongested, saving customers time and improving their overall experience.
Proven success for UK pharmacy
A well-known pharmacy in the United Kingdom with over 2,200 locations has become an industry leader since implementing these changes. This company understood the need for adequate process management with increased patient traffic.
To meet these needs, the pharmacy chain implemented ACF Technologies' online appointment booking solution. This tool automates the process of appointment scheduling from a mobile application or website, sends notifications to patients with relevant information, and gives the option to reschedule or cancel the appointment. This allowed the pharmacy chain to expand their services while reducing operating costs. With ACF solutions they could offer a fully customizable customer experience and user-friendly interface.
Other benefits this company has seen since implementing online appointment scheduling are:
Up to 60% of appointments are scheduled through the ACF platform and solution.
The percentage of no-shows for appointments was reduced, thanks to the implementation of reminders and online rescheduling/cancellation options.
Centralized resource management to track vacations and temporary staff coverage, and to automatically request necessary staffing coverage.


This innovative application allows for seamless management of all communication channels, including the web, emails, and the mobile application. It also provides messaging automation for accurate and efficient responses to customers and uses data to analyze incoming messages and enrich customer service processes.
Q-Flow has been implemented by 32% of UK pharmacies, generating breakthroughs like scheduling up to one million appointments per day for the COVID-19 vaccine.

At ACF we understand the need for the pharmaceutical sector to provide patients with effective and compliant services. Our Q-Flow platform allows you to achieve these goals and improve your company's internal processes through automation for a better customer experience.

Contact us now to learn more about our services.