Cassa di Risparmio di Asti, (AKA Banca di Asti), is an Italian savings bank based in Asti, Piedmont. With 137 branches, it serves the Piedmont and Lombardy regions and is recently booming in the Veneto and Liguria regions.

The continuous evolution of the financial market constantly sets new challenges for financial institutions such as Banca di Asti, pushing them to improve their services, meet or surpass customer expectations, and optimize costs.
The Challenge
In 2015, Banca di Asti launched its Branch Transformation project with the goal of identifying key factors for evolving their branch model and service model. The bank analyzed the most successful Branch Transformation projects in Europe and visited the most innovative branches to learn more.
Banca di Asti identified three different branch models based on size, location, and clientele; it assessed that cross-selling activity needed to be improved and decided to invest in empowering its consultant profiles.
Automation was another key aspect the bank wanted to improve, expanding its self-service channel, and supporting customers in a migration process for using automated tools.
Using an advanced queue management system was required to alleviate the existing problem of long waiting times occurring unexpectedly at counters, and to support consultancy activities. Many customers were not using the in-branch self-service machines, while the bank wanted the staff to focus more on added-value services and not on cash-desk payment transactions.
The bank's top management needed to have tangible results for the Branch Transformation project in order to assess whether the models were working as expected. Aggregating data on changes in customer behavior and staff performance was crucial. The bank wanted to understand whether customers were using the self-service machines instead of going to the cash desk, how many staff members were needed for certain activities, and how the agents were transitioning from cash/payment-related duties to the sales role.
This information was necessary for adjusting the transformation strategies designed to improve their branch and service models.
The Solution
Banca di Asti surveyed the market to find a software solution that was capable of supporting their Branch Transformation goals.
The Q-Flow platform was their solution of choice that would extend and complement their existing CRM's functionalities.
Q-Flow was selected based on the following features and benefits the bank could implement:

Seamless integration with the bank's existing information systems, enabling the bank to extend functionalities to support both agents and customers.

Direct customer engagement tools via Q-Flow Connect for generating customer personalized brochures, two-way reminders, and agent sales tips.

Digital signage solutions that provide customers with information about their position in line, and include rich-media content options for promoting the bank's added value services.

Customer-centric workflow engine with Q-Flow BPM - Routing customers per their needs to an agent with the matching skills or to the shortest lines, and initiating follow-up actions for agents as part of the customer workflow.

Kiosk check-in processes tailored to the bank's customer-centric workflow, which includes customer identification and personalized offered services.

Real-time alerts and event-driven notifications provide branch managers with service-level alerts to enable better service and improve customer satisfaction.



Statistical reports generate options for branch managers that enable tracking staff performance and assessing customer responses and satisfaction.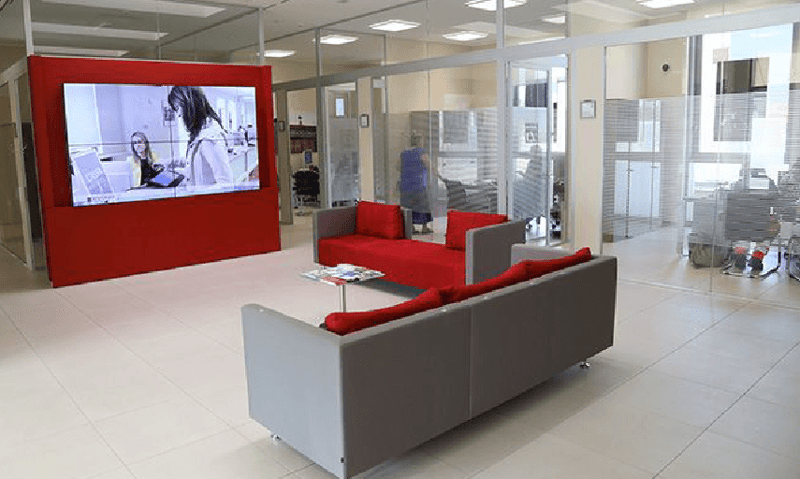 Digital signage solution at Banca di Asti
The Results
Q-Flow played a major role in the significant increase of using ATMs/kiosks for self-service transactions by prioritizing cardholders, and Q-Flow was also instrumental in implementing an effective marketing campaign that was carried out throughout the migration process.
Further Deployment
The use of Q-Flow is gradually spreading throughout the organization and is reaching even the smallest branches. Banca di Asti is currently reviewing the kiosk workflow and the digital-signage media to tighten the relationship between the customers and their personal agents. The bank is running a pilot kiosk that presents agents' photos on the user interface and prints the selected agent's business details on the ticket.
The bank is also testing a digital branch, in which a group of online agents supports customers remotely with various banking tasks, such as internet banking transactions and scheduling appointments for the brick and mortar branches. These agents also perform outbound promotional campaigns.
Going forward, the bank sees Q-Flow further integrated in their informative systems, facilitating daily activities even more, and improving customer satisfaction.
Download Case Study