In this podcast episode - CEO & founder of Kili, Cinde Dolphin talks about the lack of patient centricity from a first hand perspective. She speaks about how healthcare can begin to better understand, and innovate throughout the patients journey.
Episode 21
Episode Summary
Cinde Dolphin is an Ex-beverage marketer who was diagnosed with cancer. Fortunately she recovered. Throughout her experience, Cinde noticed some steps in the cancer patients journey that could be improved, providing the doctors could receive and act on the feedback.
After experiencing first hand the horrors of having to carry around a medical drain pinned to her clothing, She identified it as not just an embarrassing problem, but also a practical one. With many problems occurring due to this poor design, Cinde then began to search for a way to help doctors address this problem.
Commercial medical supply companies are very dependent on generating large amounts of revenue, Therefor when it comes to small incremental changes to the patients experience - I does not appear attractive as a revenue generator or KPI. This is a huge problem in healthcare technology. What needs to change is healthcare's view on driving margins, over the importance of the patients experience.
Small and inexpensive solutions are often overlooked.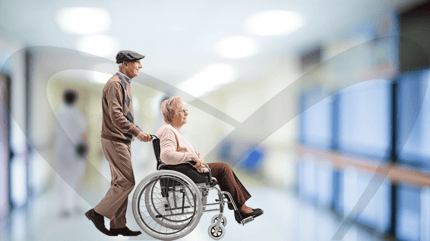 Human centred design in healthcare
Cinde also discusses how COVID-19 influenced expenditure should be better funneled towards human centred design. Addressing the needs of the people that already are infected. By giving the patients a communication channel, such as more extensive feedback forms, healthcare professionals can begin to understand better the physical and emotional trauma of having this virus.
Global collaboration in the form of open source healthcare solutions can really benefit the entire world and all patients, This is a hurdle yet to be jumped over. A silver lining to COVID-19 is that it will likely catalyse this process.
Open source is a great way to allow small businesses to not only generate great ideas but also as a community evolve that idea to solve real world problems, not for profit.
Large multinational healthcare suppliers are often guilty of creating products that are sub-standard but only because they are the only ones producing it.
One alternative is hospitals starting "innovation centre" where boots on the ground doctors and patients are responsible for driving innovation.
However the most accessible way to improve patient experience at the grass roots is to encourage better feedback and communication between the patient, and the physician/doctor.
"When you equip a patient with the knowledge that their own creation can improve the medical outcome for others, it only adds to their own healing process."
However collecting qualitative feedback is an area that healthcare organisations are hesitant to approach.
The fundamental pillar of good customer engagement and communications however is properly thought out systems and processes, often ones from smaller organisations with one foot permanently placed in the patients perspective.
Written by Louis Simmons
More episodes
Full episode transcript
Louis:
Today, we have the wonderful CEO and founder, Cindy Dolphin. We get to talk about the lack of patient centricity in health care at the moment. From a firsthand perspective, she also speaks about how healthcare can begin to better understand and innovate throughout the patient's journey. If you enjoy this episode, do not forget to go to www.acftechnologies.com/podcast where you can subscribe to our mailing list. And I'll see you in seven and a half seconds.
Louis:
Hello, everybody, welcome back to Customer Experience Conversations. Today, I'm joined by Simon. Hello. And Cinde Dolphin. Good morning. Good morning. Cinde is the CEO and founder of Kili. I pronounce that right. Yes. And they are a medical dream carrier providers. She's a member of the Academy of Oncology, nurse and patient navigators.
Louis:
And you can find her Web site...https://medicaldraincarrier.com/ So the first question I want to ask you, Cindy, is where your journey started and how did you get to where you are now?
Cinde:
Thank you.
Cinde:
Well, I had a pretty active career in adult beverage marketing and felt that I had it pretty well made until I got diagnosed with cancer for the first time. And then there were three subsequent diagnosis of cancer.
Cinde:
So I took a break from that career in order to deal with these diagnoses and over that period of time, had a number of surgeries and surgeries were usually done by a very capable team of surgical experts. And I felt very comfortable going into the surgeries, knowing that the surgical suite was well equipped to handle what they needed to do. But as I came through the surgery and on to the recovery part of the cancer diagnosis, I found that there were some voids in the care for the patient. And it seemed as if there were opportunities for the patient to provide some feedback to these very knowledgeable and experts in cancer surgery in order to make the journey a little bit easier for the patient. So for the last five years, I've been working on a product that is certainly helpful to a patient as a recovering from cancer surgery.
Cinde:
But other surgeries and as I've been developing the product, I found that being a patient advocate in the world of research and development for medical supplies is something that's just really not done, at least here in the US. And I am now promoting the opportunity to include patients in the development of new products.
Simon:
That's quite interesting. So would you would you say that that history of yourself has made you kind of stronger in driving your message more and kind of more aware of that patient kind of centric view?
Cinde:
Definitely. I mean, it has to do with the fact that as a patient, your experience is far different than the medical teams experience and having the awkwardness of dealing with, in this case, medical trains that are full of really gross fluids that are pinned to my clothing. It's not only embarrassing, but it can cause complications. So the outcome from surgeries art is successful. And so having been in the shoes of the patient, I feel that I can help the medical professionals and help those medical supply companies come up with better ideas about how to address the pain points of being a patient.
Simon:
Yeah, that's quite interesting, isn't it, that that's still I'm kind of quite surprised myself still how how that's lacking in the whole healthcare world.
Simon:
I mean, in almost any country, isn't it?
Simon:
There's almost that lack of not one type of patient awareness, but still the way you described it, the absolute understanding from the patient perspective, it almost takes somebody like yourself who's gone through that moment to actually stand up and drive it through that healthcare environment. Isn't that true? It's kind of almost frustratingly missing, isn't it? Yeah.
Cinde:
And I do understand that commercial medical supply companies are very dependent on generating revenue in order to keep their doors open. But when I approach some of these large companies to talk about small, simple products, they're not going to spend a lot of time on it because actually their revenue is driven by the large, complicated products like robotics and A.I. and they don't see the financial benefit of investing in simple day to day solutions.
Cinde:
Patience.
Cinde:
So I think there's definitely a need for patience to speak up and tell the community, medical device companies that they need to listen then. And that's not just the patients, it's caregivers. Also, I am aware of a hospice nurse that invented a brilliant way to deal with soiled bed sheets when the patient is bedridden.
Cinde:
And often these nurses receive injuries from having to turn the patients in order to remove the sheets. And simple solution that is very inexpensive, that works very well, has not been embraced by the medical community because it really isn't something that works to drive revenue.
Simon:
I understand that. I find that fascinating, that sometimes the innovation that you're looking for, it could be from somebody on the front line doing something that they don't even realise what they're doing is good.
Simon:
You know, the example, the ease did you just gave there someone doing something that doesn't even realise what they're doing is valuable?
Simon:
You know, I. I find that really fascinating.
Louis:
So it's almost like the patient is the innovator in this scenario.
Cinde:
Yeah, there are some brilliant ideas out there that I mean, another small example, but sweet is that there's a young woman or 11 year old who is diagnosed with cancer and unfortunately had to receive chemotherapy frequently. And she and her dad came up with a solution for those infusion poles that are clumsy and awkward. And they created a prototype backpack that had a small infusion pull on it. So this young girl could take her infusion appointments to the pediatric ward where she could be surrounded by those that are the same age as her and feel a lot more comfortable than being in the infusion ward where it's mostly adults and in some cases pretty sad situation.
Cinde:
So pretty simple, but works very well for a very wonderful response.
Simon:
And I guess at the moment we have we can't really get away without mentioning the current kind of global situations. Those of do the listening, we are recording this during the kind of Kobie Covanta epidemic globally. And I don't think we can get away with not mentioning it because.
Simon:
What are your thoughts there? What impact is that going to have on healthcare organisations and hospitals globally having the ability then to look at innovation? Because at the moment we don't really know what the new normal is going to be or or how procurement teams or budgets are going to be arranged.
Simon:
You think it's going to impact innovation in small businesses like like like ours or or do you think it's going to potentially open up new opportunities to improve that patient centric view that we didn't have before?
Cinde:
Good point. I think the Cove coronavirus is giving a new perspective to patient empathy and caregiver empathy. And I see there being fusion of dollars going to the health care industry. And I'm hoping that instead of taking the dollars and focusing it on actual cures, which is important, but also addressing the needs of the people who already have the illness, saw the virus and the care that needs to be given those people who are dealing with the tragedy of being infected. And I think human centred design, which is a concept that's been around for a while. It's an excellent way to analyse the covert 19 situation that's coming to a place where you sit in the car in the seat of the patient who's having the virus and how could their life be a little bit easier, perhaps even allow them to recover faster and giving that patient up to have a voice, a seat at the table and and talking about both the physical and the emotional trauma of going through a virus like this?
Simon:
Yeah, I completely agree. It's I think I'm kind of frustrated slightly that this is almost an opportunity for more of a global approach to design focus that you're talking about.
Simon:
But I don't I don't particularly see that happening. I kind of see still that kind of nations working separately as opposed to a kind of collaborative lays into, you know, improving that patient centric design size. Bit of a strange movement we don't make.
Cinde:
I mean, there's actually some journal articles out there about how patients are increasingly able to conceive and develop medical devices that meet their own needs.
Cinde:
And they're doing it without the help of the corporate or commercial world. And I think if we can learn something from this current virus situation, it's that we can be more sensitive to the day to day problems in just bathing or sanitation. I know in the end housed community that there's a huge issue about sanitation practices and thinking of how that housed individual can deal with this virus and coming to them to find out what would be the best solution rather than looking through the lens of somebody who's treating them.
Simon:
Hopefully, I you know, I think there are a lot of opportunities here, there they're looking at whatever the new normal is going to be. I think it's going to be a lots, lots of changes. I don't think not just procedural, but I also think we've kind of human with human habit as well.
Simon:
You know, just some simple ideas we're talking about kind of a few days ago was has that patient century view changed all of a sudden now where, you know, historically you would have 80 to 100 people waiting in a cramped little room in a hospital waiting to have a blood test? You know, that that kind of environment now and quite rightly issues should be avoided. Now, you know that that patient centric view is also about that, the care of them and the safety and the environment that they're in. I think that that flow should change in will that kind of also push towards more telephone consultations where face to face isn't required?
Simon:
And will that create a space in the breathing room for hospitals to implement some more innovations to improve the patient position from their perspective? I'm kind of quietly hoping that that we see lots of positives come from this, because I think it is really highlighting where we're falling short right now, isn't it?
Cinde:
Yeah, well, and I hope you're not quietly helping up. You're talking about it being talked about.
Cinde:
And, you know, it's sort of we're at a point where you mentioned global collaboration and it's a point where we can really transform health care by doing kind of open source solutions rather than keeping solutions to our country or to a certain medical technology group.
Cinde:
It's giving it to the entire world and sharing it, making open source solutions that seem as open source technology and sharing and giving everyone the opportunity to hear what worked in their community or worked in their situation and how that could be helpful in others situation.
Louis:
Yeah. The importance of the small innovations are definitely overlooked, especially in health care at the moment. Obviously, for the greater innovations, the larger ones, like just, for example, the invention of MRI scanners, that they save a lot of lives. But then again, how many lives do you reckon are saved by all of the small innovations going on in healthcare, by smaller organisation? Probably a similar number when you added when you add it all up.
Cinde:
Yeah, it's definitely a way to grow our economy, too, is giving smaller businesses an opportunity to come to the table.
Simon:
Yeah, and I like what you said earlier about open source in the business world.
Simon:
You can fully understand why ideas are kind of protected through patents. But I do believe that there needs to be kind of a middle ground because open source is a real way of allowing small businesses to not just come up with new ideas, but expand on existing ideas and allow those small businesses to grow and build something that is kind of genuinely. And continuously solving a real world problem, and I think until that, until the open source kind of fashion exists, it kind of slows things down slightly, doesn't it?
Cinde:
Yeah, there are some great ideas from people that are frankly not equipped to be financially set to get those patents.
Cinde:
So how can we help them get that brilliant idea out there without having to deal with FDA approvals and patterns? You know, intellectual properties. Let's let's grow with their ideas.
Simon:
Yeah. Because that that discourages what we clearly see at the moment is large multinational suppliers to the healthcare environments, providing products that they know are substandard.
Simon:
But that organisation is the global go to for that product, even though it's not not the best one. There are better ones out there from kind of encouraging healthcare organisations. Take up those those offerings from smaller businesses, the more, you know, able to adapt and and and bring out new innovation that that side of the market seems much more exciting.
Cinde:
It's exciting that some hospitals are now developing innovation centres. So rather than counting on these large medical supply companies, they're encouraging their own staff and possibly eventually their own patients to be part of the innovation cycle for their titular speciality in the hospital. So I'm hoping that hospital innovation centres are going to be driving more of this in the future.
Louis:
Yeah, that's a really interesting idea. I would love to see that implemented in the U.K., the nature of healthcare here is slightly different than it is in the US. There's a lot more public healthcare. There's still private. But I'm not aware of any of the privates having those kinds of departments. Before we wrap up, Cindy, I would like to ask you one more question. If you could speak to some of the health care leaders or individuals in charge of innovation, what would you say to them? What advice would you give them and why?
Cinde:
I think it's important that patients make their very own physicians aware of ways that improve the patient experience, and then we are hopeful that the medical teams are willing to be vocal about it and share it with other medical teams and collaborate as thought leaders for the growth of new ideas. So as a patient, you're often discounted as having any experience or knowledge.
Cinde:
But when medical professionals are important and willing to go to seminars, trade shows, meetings and talk about it, they can influence the future. So I think it's important for patients to be vocal about what they think needs to be done.
Cinde:
And then there's a wonderful quote that was told to me by an oncologist, and that's that when you equip a patient with the knowledge that their own creation can improve the medical outcome, for others, it only adds to their own healing process. So it's kind of paying it forward concept that if physicians understand that a patient is willing to share valuable information, it will help others, but it helps that patient, too.
Louis:
Do you think do you think there's a way hospitals can better get feedback from their patients?
Louis:
I don't know if there's any process is currently being set in place like surveys or.
Cinde:
I know in the US we have hospitals conducting surveys to help with patients who have been treated at their hospital.
Cinde:
But it's more of a qualitative and quantitative or not qualitative, you know.
Cinde:
Did you get the prescription at the time you needed it and not how could we improve your experience? And I think that narrative needs to be included. Any kind of survey that's conducted by the hospital.
Louis:
Definitely. I'm a huge fan of Japanese methodology about Kaizen improvement. Continuous improvement over a long timescale adds up and. Yeah. Like you said, definitely healthcare.
Louis:
Is in need to find a way to acquire more feedback. Qualitative feedback on the patient's experience.
Cinde:
We'll hope that this maybe this virus will drive that new way of thinking. And I'm sure there's going to be a few good things that come from all of this. Unfortunately, we'll have to suffer through the bad things and or hope that it goes fairly quickly.
Simon:
What a perfect place to finish. I absolutely agree. I hope we see we see just benefits coming after we get over this horrible situation.
Simon:
So that's a good place to wrap it up.
Louis:
Thank you very much for joining Cindy. It's been great trying to thank you.
Cinde:
I enjoyed the opportunity to share a little bit of the patient perspective.
Louis:
Thank you for listening, everybody, and we will see you next time.