An ACF customer in the financial sector since 2017, has always valued their customers and have invested greatly in ensuring they always continue to deliver the unsurpassed customer services with a focus on profitable customer transactions and began transformation since 2014 in management specialising required segments and modernization in their integrated tool as well as aimed to exploit niche markets and maintain customer satisfaction. This client has invested greatly in making sure their online presents meet their customers' needs by giving them online banking to manage their bank accounts, where currently there are around 2 million different customers accessing their site every month, which means around 500,000 visits a week.
The client turned to ACF to move appointment scheduling online. Integrating multiple systems and channels across 500+ branches brought numerous improvements to day-to-day operations and customer experience. This client, a global bank, headquartered in Europe, has worked with ACF Technologies since 2017 to transform its in-branch appointment scheduling process.
The Challenge
The move to online appointment scheduling
In the last few years, the client has worked to integrate the information from all channels (branches, contact centres, digital media etc.). This enables the business to improve productivity and help cost savings with reviewed improvements based on customer experience and needs. The business requirements are to take advantage of new technological advances and streamline services and processes to heighten customer experience across all operations.
As part of a global strategic initiative to improve customer experiences, the customer experiences team was eager to shift appointment scheduling from email, telephone, and branch walk-ins to a centrally managed omnichannel solution.
To streamline their customer experience and provide customers across the UK with the best possible customer service, they partnered with ACF Technologies to implement Q-Flow, an enterprise appointment scheduling platform.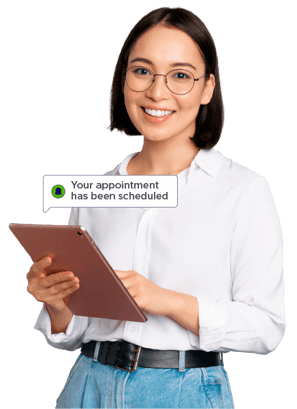 With stiff competition and a growing customer base across the UK, the client faced several key business challenges that needed addressing, including:
Finding a system capable of handling millions of customer appointment requests across multiple channels
Access to real-time insights to help manage the constant fluctuation in footfall across branches
The need to create a more consistent brand experience across the bank's estate
A future-proof solution capable of scaling and adapting to the ever-evolving nature of the financial services industry
Accurate, real-time reporting for management and business to drive better customer experiences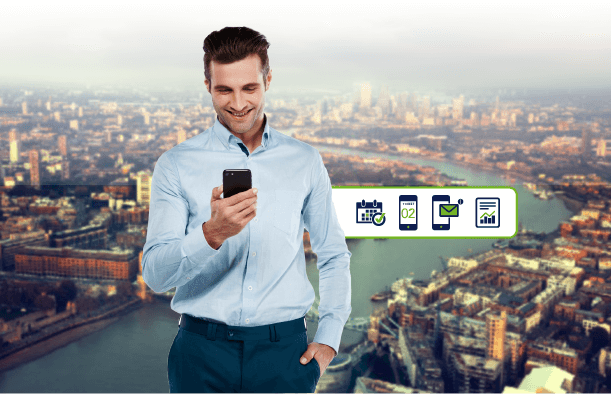 The Solution
The company partnered with ACF Technologies to design and implement an industry-leading enterprise appointment booking solution using a cloud-based version of Q-Flow.
Omnichannel Online Booking at Scale
Using Q-Flow, the project team combined all appointment scheduling services: online, via phone, in-person or in-app into a single omnichannel experience.
Customers can now book an appointment via the online booking system, which works across multiple devices and uses location services to help customers locate the nearest, least busy branch.
Automated notifications via SMS and email alert customers to booking confirmations, rescheduling options, cancellations, no-shows, and other communications.

Automated calendar optimization
Q-Flow is integrated with Outlook and automatically synchronizes all appointments directly into staff calendars. Multiple system integrations connect Q-Flow to data, including staff work patterns, workforce management, and branch opening hours, to streamline operations across 10,000 employees with calendars that sync through their Outlook mailbox calendars – all fully integrated into the bank's CRM systems to create a seamless user experience.
The users are able to book/rebook/cancel appointments and view their diary as well as their colleague's calendars to manage appointments between roaming branches across multiple Job roles. ACF has also created a custom interface where the users can manage their day-to-day shifts as well as have the ability to reserve slots in their calendar to book holidays.
Portable Tables

The client has also portable Tablets integrated with Q-Flow where they can access a Diary view of their calendar when greeting customers in the branch which makes staff members more efficient as well as attending to customers more quickly and meeting their needs to ensure customer satisfaction if they have an appointment. It is a custom solution where the Staff members can also book appointments for customers there and then while in be presently discussing their needs for their banking desires.
A Full Customer Journey Experience

The customer can select the product they want to talk about, then select the nearest branch to the postcode they search; this also allows them to view a google map to plan their journey and complete with an email notification of the appointment, what branch and whom will conduct the appointment.
Reports & Insights

Branch and area managers have access to business performance reports, including total appointments booked, customers served, average service times, SLA comparisons, and the percentage of calendar utilization for a given time and across locations.

The central administration team can also see organization-wide data for all key metrics required. This data is passed directly across from the Q-Flow database to a central reporting system for the company to create the detailed reporting views needed.
The Results
Moving to online appointment scheduling has brought:
Enterprise Omni-channel Appointment Booking Solution
Q-Flow implemented in over 500+ locations
Automated calendar optimization for all 10,000 staff calendars
Decreased wait times and improved customer satisfaction
Ongoing strategic technology partnership for six+ years
Download Case Study