Healthcare resources are stretched thin in the best of times, and COVID certainly hasn't made things easier. Optimizing resource utilization is essential not only to ensure patients get the care they need, but to help healthcare organizations control costs while taking advantage of revenue opportunities.
Right now, this means implementing a COVID vaccination program that gets the maximum number of patients vaccinated in the shortest amount of time—all while maintaining social distancing, avoiding any vaccine wastage, and continuing to provide care to non COVID-related patients. It's a tall order that will remain a challenge as the vaccine initiative—and the pandemic—drags on. The right tools can help you overcome these challenges.
1. Automate when possible to optimize staff time
Many aspects of the patient vaccination journey can be automated to relieve staff and free them for other tasks—one that require nuanced communication or personal attention. Automating these processes can also improve the patient experience. For example:
Online

appointment scheduling

, confirmation, and reminders
Patient check-in process (including insurance verification, consent forms, and more)
Wait time updates and directions for patients who have already checked-in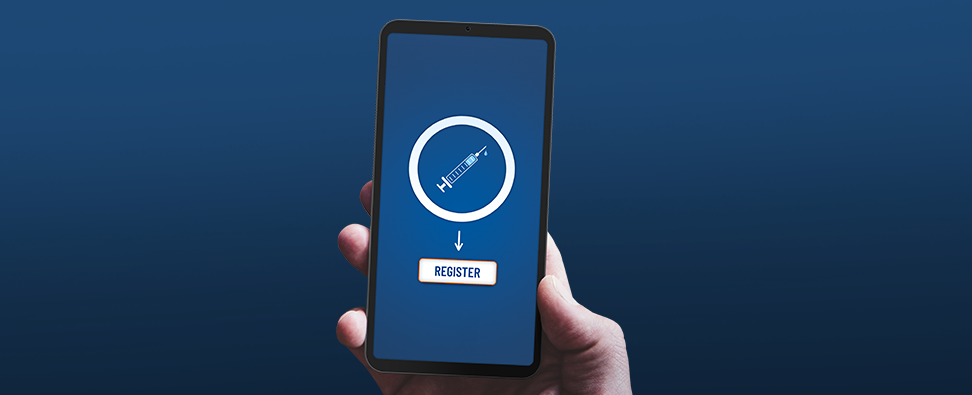 2

. Virtual queue management to avoid crowding

Virtual check-in and queue management minimizes the risk of patients gathering in your lobby or waiting area. It also allows you to control and monitor patient flow, no matter how many vaccine locations your organization has. Other features of virtual check in and queue management include:
Virtual waiting rooms so patient can wait anywhere
The ability to update patients on their place in the virtual queue
The option to route a patient to a different location (for example, if the wait gets too long)


And while "virtual" implies something that occurs entirely online, the right software can maintain the feeling of personal connection that patients crave, even when you can't be face to face.
3. Reliable data to allocate resources
Accurate patient flow and performance data helps you allocate already-stretched resources where you need them the most. Real-time updates benefit both patients and staff by enabling you to make of-the-moment decisions that can improve patient flow and relieve staff member stress. Predictive analytics can help you calculate optimal staffing levels so you can easily balance the number of vaccination patients with your non-COVID patients. For example, on days that are heavier with walk-ins and scheduled patients, you can offer fewer vaccine appointments if necessary.
4. Avoid vaccine wastage
Data can do much more than optimize staffing levels. Appointment and utilization data can be useful in making sure your vaccine supply is correctly matched with the number of patient appointments. Wasted vaccines are costly, both in monetary terms and in terms of public health—wasted vaccines mean fewer people vaccinated. If you have extra vaccines, cancellations, or no-shows, your queue management system could move patients up the wait list, or even alert patients on a waitlist that you have immediate availability.
Healthcare providers will be administering COVID vaccinations for the foreseeable future. And whether or not a booster or revaccination will be necessary is still up in the air. As providers continue to operate vaccination clinics and work COVID patients into their regular workflow, optimizing every resource available will be the only way to maintain a strong bottom line.