You're committed to providing quality healthcare for your patients, but can your infrastructure accommodate the new wave of expectations?
It's not enough to be able to provide healthcare services in-house. Your patients are busy, they procrastinate checkups, and — in most cases — they don't want to schedule an appointment unless they're feeling sick. They need a flexible solution that fits their schedule and feels hassle-free.
Telemedicine allows you to provide remote care from virtually anywhere. But, what other problems can it solve?
Problem #1: Your Patients Live in a Rural Area
The probability of your patients living within walking distance of your office is low. That means that your patients are commuting 20, 30, sometimes 50 minutes to your office. This distance from your practice is causing a big impact on who is making appointments — with some rural patients opting to wait until they need immediate care.
Solution: Video Conferencing
With telemedicine, you can converse with patients from anywhere with a secure, live video conference. Using a webcam, you'll ask questions, conduct your routine checkup, and converse with your patient as if they were in your facility. And, without the long-distance driving, your patients can quickly get back to their lives.
Problem #2: Scheduling Appointments Isn't Convenient
If you're still requiring your patients to call and schedule appointments, you've already lost their business. With current advancements in technology, there is little reason to create scheduling inefficiencies by requiring patients to book through a person. Not only does this increase the risk of human error, but it detours patients from calling — especially if your competition is already providing this service.
Solution: Online Scheduling
Telemedicine streamlines the appointment scheduling process by providing a single platform where patients can schedule online — freeing up your staff's time and giving back control to your patients. They'll be able to see which days and times are available and book it hassle-free. By eliminating the middleman, you're improving operations in-house while enhancing the patient experience.
Problem #3: Your Patients Lack Healthcare Coverage
In 2018, 27.9 million nonelderly individuals went without health care insurance. When your patients lack coverage, making appointments with your practice is the first thing eliminated from their to-do list. Without insurance, they associate a visit to your facility with expensive bills.
Solution: Out-of-Pocket Virtual Visits
Instead of requiring patients to see you in your practice, you can use telemedicine to offer less expensive, out-of-pocket appointments for patients without coverage. Virtual appointments allow you to cut costs by reorganizing your staff's tasks and lets you offer your services for less — while still making a profit. Your patients will feel like they're getting a deal, and because it's out-of-pocket, you'll get paid sooner.
Problem #4: Consultations Aren't Free
It's inevitable, your patients will call you with questions about their health — regardless if they've recently scheduled an appointment with your practice. But, your time is valuable and consultations can't be free. Not only do these one-off phone calls cost you money, but they take time away from your other patients.
Solution: Digitize Your Consultations
By moving the conversation to a telemedicine platform, you can formalize the consultation and begin charging a small out-of-pocket fee for your time. A virtual queue allows you to see who needs your consultation services so that you can fit in virtual patients between appointments — streamlining your operations and reducing the chaos of phone calls.
Problem #5: Your Patients Are Too Sick to Drive
When your patients are dealing with illnesses like the common cold, they know that they're sick, but they may feel too terrible to schedule an appointment and come in. Not only is this dangerous to their health, but it defeats the purpose of your practice. You can't provide quality care if your patient isn't seeking it.
Solution: Appointment as a Service
Telemedicine allows you to see patients from anywhere — eliminating the need for them to drive to your practice and putting others in danger of contracting whatever they have. You can quickly diagnose their condition, prescribe medication, and follow-up in a few days all from the same virtual platform. Your patient can get the quality care they need from the comfort of their bed. And, you eliminate exposure to yourself, your staff, and everyone in your waiting room.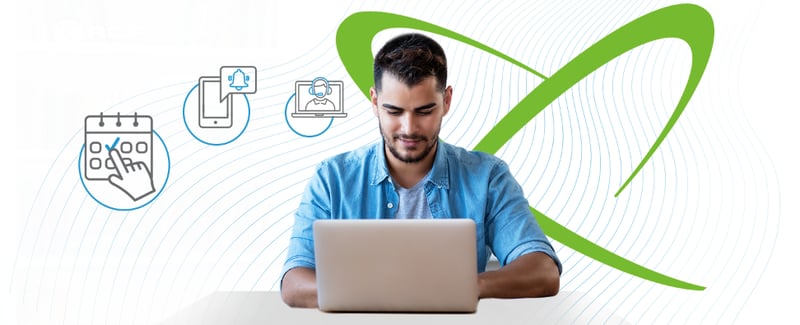 Your Telemedicine Options
Assistant Anywhere facilitates and streamlines communications in real-time by empowering your staff and delivering better service to your patients. This telemedicine option uses a single platform to streamline the appointment process and humanize the digital experience. Your patients book an appointment, you send a notification when you're ready to see them, and then you connect via a secure, live video chat. You'll be able to share your screen, diagnose your patient, and follow-up using a messaging system that keeps your staff and patients connected. For more information about this service, contact our team today.