People want access to quick and effective booking systems. When service providers listen to their customers, positive results ensue.
Today, customers want to access an effective and fast system which they can trust. For many businesses, it may be challenging since finding the right time to budget implementation isn't easy. Things often get pushed aside for more important or pressing matters. However, it is vital to take into consideration the fact that the sooner an appointment booking solution is addressed and implemented, employees will have more time to spend on delivering excellent service. .
People do not want to waste time waiting to make appointments via phone call or in person.
When offering a booking service, it is essential that the business know its customers and be trusted, efficient, and fast. Being able to provide excellent service in a short amount of time shows that a company cares about its customers and not only about their budget.
When considering the budget, a company should know that finding areas to improve the customer experience will save them money in the long run. By implementing an Appointment Booking Solution, customers feel in charge of their time and are more likely to return and recommend your business to others, ultimately generating more revenue.
Digitization and automation not only benefit the customers but will help your employees, as well. Appointment Booking software allows staff more time to complete other, more important tasks to improve business operations and more time to give customers quality attention.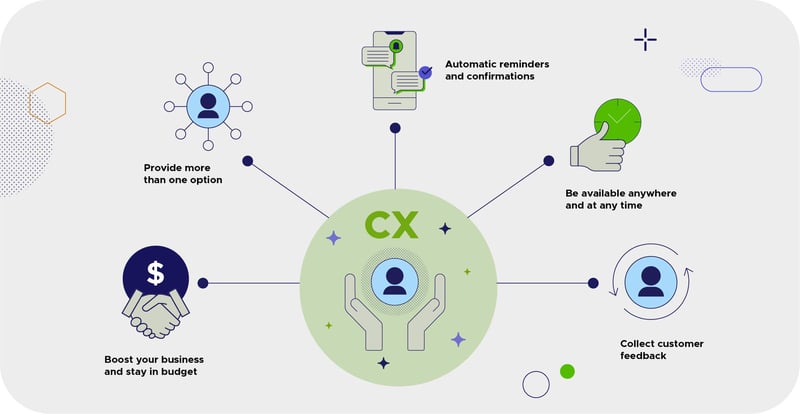 Is your business listening to its customers?
There are many ways how appointment booking can be transformed by listening to what customer want and without overextending your budget. Here are five ways that goal can be achieved:
Boost your business and stay in budget: By now, if your business is not offering an online booking service, it is likely losing revenue due to customers switching to a business that is more streamlined and digitized.

Customers want to have access to a platform they can understand and that gives them the power to be connected at any time, from anywhere.



Provide more than one option:

Although digitization is vital for a business, there are some customers that still prefer to make a phone call or have an in-person appointment. Whatever their choice, it is optimal to have a uniform system that can help them book an appointment, be in touch with customer service, and have easy access to any follow-up service they might need.


Automatic reminders and confirmations: The traditional way of manually reminding customers of appointments, as well as confirming appointments, wastes time for both staff and customers whose time could be spent doing other things.

Online booking empowers customers to take control of their time, making it easier for them to schedule, track, and rearrange appointments from any device.

Although people are on their phones for at least 3 hours a day, most of them won't answer a call from an unknown number. In fact, a study found that only 33% of voicemails from business contacts get listened to, while only 18% of voicemails from unknown numbers are listened to.

That is a lot of potential time that is misplaced when handling appointments.



By sending automatic reminders and confirmations, people are more likely to respond as studies show that people check their screens at least fifty-eight times per day.



Be available anywhere and at any time:

Online booking allows businesses to increase revenue outside of standard business hours. Although most appointments are made in the morning or afternoon, almost 10% are made when the business is closed. By providing an automated system, no matter where customers are or what time it is, they can have access to a platform that will ensure that their appointments are scheduled even if they do not have time to do so during standard business hours.

This allows the business to retain that 10% of customers, boosting revenue by being modern and available when and where customers need service. This can be done through software that schedules appointments and sends reminders, and at the same time, can provide access to a video call when the customer needs one.



Collect customer feedback:

By having access to real-time insights, businesses can optimize the customer experience and know the number of visits they have in a certain timeframe, average wait times, and services delivered.

Knowing what their customers want and need helps businesses optimize their budget and approach by accessing an in-depth analysis of experiences and journey parameters.
A better CX is possible and here's how we do it
An Appointment Booking Solution is extremely versatile. However, it is vital in ensuring customer satisfaction in the healthcare industry.
ACF Technologies has the mission to make every customer t interaction effortless, efficient, and pleasant. We provide an Appointment Scheduling Software which optimizes customer experience and staff productivity.
At the same time, by applying Queue Management, a business not only schedules and manages appointments but has an automated queue in which customers can wait from anywhere at any moment to have access to their appointment.
Contact us or schedule a demo today to learn more about optimizing the experience for staff and customers alike in all areas.