Colleges and universities around the world have begun to welcome students back to their campuses as we step into "the new normal" in the aftermath of the COVID-19 pandemic.
During this precarious time, student mental health is under the microscope. College administrators are under immense pressure to provide students with the support they need to navigate the remarkable situation we've all found ourselves in.
Luckily, cutting-edge technology is an effective and affordable way to create a better student experience that helps reduce stress levels across your entire campus.
In this short guide, we'll walk you through eight ways you can leverage the latest queue management and appointment booking technology to completely transform the experience students and staff alike have on your colleges' campus.
Learn How Queue Management Can Reduce Wait Times On Your Campus
1. Optimize service efficiency and reduce wait times for students
Everyone hates waiting.
A piece in The New York Times sums it up nicely: "the dominant cost of waiting is an emotional one: stress, boredom, that nagging sensation that one's life is slipping away".
And keep in mind that for your Gen Z students, most things in life are just a few taps of a smartphone screen away, making the times they do have to wait in line feel particularly torturous in comparison.
Any time your students queue on campus, they're more than likely worried about getting to class on time, itching to spend time with friends or hit the sports field, or catch up on their studies.
The pressure on students is no joke – particularly for those in their last year of study worrying about starting their careers. And the fear of missing out is very real for a generation so plugged into social media, where they're constantly exposed to a highlight reel of what everybody else is doing.
Having to regularly wait in long lines is a form of stress students can certainly do without and a contributing factor to the current student mental health crisis.
But, the fact is, your students never need to wait around in another long line again. Virtual queuing technology can empower students to join a line for a service they need through their smartphone, go hang out with their friends or study in the library, and then head to their appointment when they're called.
This drastically reduces the stress involved in waiting to access a service and makes standing around wondering what their friends are up to without them a thing of the past for your students.
Technologies like Q-Flow also allow college administrators to analyze student footfall, then organize staff schedules and resources around busy times based on real-time and historical analytics. This helps services across your whole institution run far smoother, reducing the pressure on your staff and wait times for your students.
2. Manage the flow of students and visitors
Navigating a new campus can be an overwhelming experience for students who've just left home for the first time. If they don't have a few helping hands along the way, there's a chance they'll spend a large part of the first few weeks of their studies flustered, frustrated, lost, and late.
Next-generation digital signage and wayfinding technology can help alleviate the anxiety of navigating a new campus by providing detailed directions to each classroom.
College administrators can even display photographs of the member of staff students should go to for help, while students can check the expected wait times for the service they're looking to access so they can visit the office at a less busy time.
Digital signage can also greet visitors to your campus with detailed instructions on where to go and exactly how to get there, as well as the photograph of the person they need to go and see.
This takes all the anxiety out of visiting your campus for the first time or spending the first few weeks there as a student.
3. Alerts and communication
Once a student has joined a virtual line, they'll be automatically updated about their place in line, the estimated wait time, and when they should arrive for their appointment.
This empowers them to wait wherever they please – in their dorm, at the library, at a coffee shop – without having to worry about missing their spot. And if there's a delay, they can just carry on what they're doing rather than having to stand around frustrated. Plus, they'll hear about it well in advance so they can plan around it, unlike in a traditional queue where people are left stressing about when it's finally going to be their turn.
4. Streamline services
Students spend their days flying from lectures to tests to extracurricular activities to social events. For better or worse, they're under immense pressure to fit as much into their time at college as they can – and having to wait in long lines to access college services is a frustrating impediment to that.
The more streamlined your services, the happier your students. And the happier your students, the better their grades, the lower their dropout rates, and the better their wellbeing.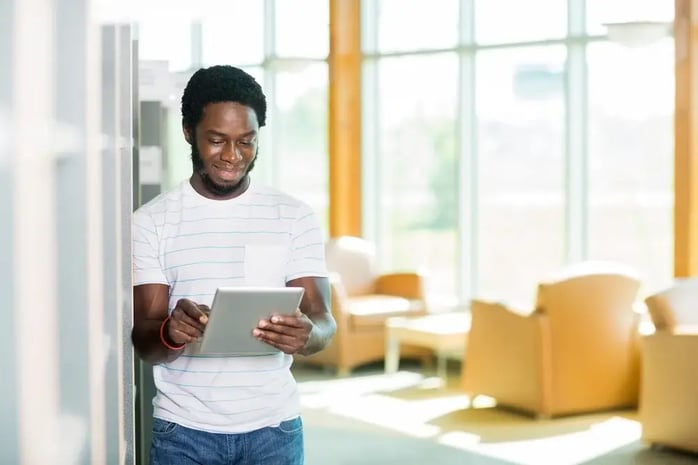 5. Improve operations (and staff satisfaction)
Virtual queue management technology doesn't just make things easier and less stressful for students. Because students can avoid peak times and wait for services wherever they like, things run a lot smoother for your frontline staff. Plus, because staff schedules can be planned around peak services times, your staff should be a lot less overwhelmed.
What's more, Q-Flow business intelligence dashboards enable colleges to capture useful insights about why and when students are visiting services. These insights help administrators improve day-to-day operations through real-time insights into the peak times students access services, the most popular services, and any regular patterns that emerge.
What's more, serving happy students is a lot easier for your staff than having to deal with students frustrated by long lines, slow services, and poor communication.
This all adds up to better-optimized operations and happier, less stressed-out staff.
6. Equipment collection
Virtual queuing can also make handing in essays and collecting equipment a lot smoother for both students and staff.
Things can get messy if every student who needs to access a service arrives all at once. But empowering students to book a specific drop off or collection time can streamline the entire process. Plus, it can ensure the right equipment goes to the right student every time.
7. Creating a stress-free education experience
Students' mental health has never been under more scrutiny – and for very good reason.
The American College Health Association's 2019 National College Health Assessment ​​revealed the stark realities of the state of US college students' mental health. 24.3% were treated for anxiety within twelve months before the survey, and 20% for depression. Plus, 45.3% said they were under "above average" stress, while 13.4% felt they were under a "tremendous" amount of stress.
Of course, this has all been exacerbated by the coronavirus pandemic. A study of the effects of COVID-19 on college students' mental health in the United States revealed that 71% of students who were surveyed indicated increased stress and anxiety due to the COVID-19 outbreak. This not only led to increased fear and worry about their own health and of their loved ones, but also difficulty in concentrating, disruptions to sleeping patterns, and increased concerns on academic performance for the vast majority of students.
A similar study of the impact of COVID-19 on the mental health of US college students concluded that "the clear negative mental health impacts call for schools and federal regulations to accommodate, support, and make mental health care accessible to all students."
Plus, a recent report from the US National Academies of Sciences, Engineering, and Medicine on Mental Health, Substance Use, and Wellbeing in Higher Education cites surveys that found that postsecondary educators found that nearly 80 percent believed emotional wellbeing is a "very" or "extremely" important factor in student success – and that the dropout rate for students with diagnosed mental-health problems ranges from 43% to as high as 86%.
The evidence is clear: we're in the midst of a student mental health crisis, and there's a clear link between your students' wellbeing and your colleges' bottom line.
Without a solution like Q-Flow in place, students have to wait in line with no idea whether they're going to be seen before their next lecture and nothing to do but think about what they're missing out on or scroll through social media looking at what everyone else is doing.
These anxieties are instantly alleviated by virtual queuing, which empowers students to use their time as they please and wait to be notified about when it's their time to be seen rather than stand in a stress-inducing line.
While this isn't going to solve the student mental health crisis alone, it removes one of the many factors adding to the stress and anxiety students deal with each day.
8. Collecting student satisfaction data
Q-Flow also collects real-time student satisfaction data through push notifications and SMS messages that are triggered while they're on campus or just after they've engaged with a service.
This provides invaluable feedback on everything from the cleanliness of the bathrooms to the quality of the service they received from your staff. You can use this data to tweak your services and measure the results in real time, helping to create as pleasant an environment as possible for students.
Transforming the student experience
If you want to reduce your students' stress, save their time, and help improve their mental health, it's time to transform the student experience on your college's campus through the latest technology.
Our next-generation queue management software can help improve students' wellbeing and reduce dropout rates across education. Get in touch today to organize a demo of our next-generation software and discover how it can streamline the services across your campus.