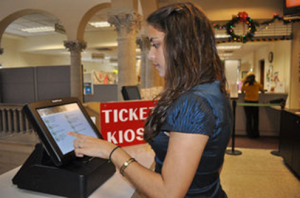 Coral Gables has added an automated system to manage the flow of customers in its Building and Zoning department at City Hall. The goal is to speed service. As a permit expediter for several Coral Gables high rises on busy Alhambra, Maria Delgado knows what it feels like to pull a permit in Coral Gables.
Visitors to the third floor of City Hall get in one line to schedule an appointment with an inspector, another to query a receptionist, yet another to pay a cashier and so forth. It's enough to tax the patience of a building professional, let alone a resident who just wants to remodel a bathroom or add a deck to their backyard. Delgado has 11 years experience as a permit expediter in the city. "I would have waited, sitting in chairs, for an hour, sometimes more," said Delgado, who hires herself out to builders to help them get permits.
But a new automated customer management system, which became fully operational in mid January, promises to eliminate some of the hassle of seeking service from the Building and Zoning Department.
Customers will now have access to a touch-screen ticket kiosk where they can input their reason for a visit. The system is designed to route them to the appropriate staff member or counter. The program can process more than one customer request at a time. Supervisors can also track a customer's progress and shift resources if certain areas experience heavier activity at any given time.
"I love it," Delgado said while standing with Carmen Olazabal, the Building Department's development services assistant director. "When you walk in, you see a machine and freak out, thinking it's complicated. The second time you use it, it's fabulous. You're never waiting, you're passed to the right direction."
Delgado estimates she can now take care of business in less than 15 minutes.
Bernie Navarro, president of Ben Development, which has built properties in the Gables, said he had to hire expediters like Delgado in the past because the wait was so lengthy. "It was just too long, it was terrible. I haven't used [the new system] but I'm looking forward to using it in the future."
The system is not meant to shorten the processing time for the building and zoning staff to evaluate applications once they are submitted by residents, engineers, architects or builders, said Olazabal. "But what has changed is you save a lot of wasted time. … The customer ends up being in the correct line instead of being bounced around in line." The machine-phobic need not fear, however. People, as in flesh and blood, not machine, will still be around to help customers figure out the new procedure, Olazabal says.

Authored by: Howard Cohen
Published by: Miami Herald