Whether you're a local, state, or federal government entity, you're responsible for protecting the people. And while you may be known for many achievements, it can be difficult to accomplish everything you want in a day.
Technology inefficiencies can extend the typical bureaucratic process, and something that should take a few hours can take weeks without the right solutions. But when you face the people you serve, they expect a smooth and seamless experience.
You require a quick way to connect with people — on their schedule — with a solution that works seamlessly with the rest of your operations. An all-in-one solution with virtual queuing gives you oversight into the meeting process so that you can streamline appointments and give your customers what they need.
Benefits of Virtual Queuing
A virtual queue creates a digital waiting room for anyone that needs to meet with you. When used with an all-in-one solution, you can streamline the entire appointment process. You gain visibility into who needs to see you and why — whether they need to renew their driver's license, pay a parking ticket, or apply for a marriage license — and you can be transparent with how long they'll need to wait.
From local government agencies to federal entities, you can see the people you service quickly and from virtually anywhere. The public can join the virtual queue from their office, home, or favorite coffee shop. This promotes social distancing and gives them the freedom and flexibility in their schedule to meet with you anytime and from anywhere.
How does it work?
Join the Queue
It starts with a need. Your customer needs to meet with you to renew paperwork, file a petition, or get something notarized — whatever the reason, they require a meeting with a government official. While they could book an appointment to meet with you three days from now, they have busy lives and today works better for their schedule.
An all-in-one technology solution allows them to join a virtual queue where they can hold their spot in a digital waiting room. Instead of sitting near your office and listening for their name to be called, they're instead lying on their couch, waiting in their car, or sitting at their work desk — and because this queue occurs virtually, they can continue with their day while they wait for you to become available.
Send a Notification
When you're ready to see them, you can send an automated SMS text message and/or an email to let them know that you are ready and to provide instructions for how to meet. Meetings can take place virtually or in-person. If you're meeting virtually, you can provide a unique pin code for them to enter the meeting along with a link to the virtual meeting room.
If you're meeting in-person, you can notify them where they need to meet you. This is ideal for social distancing situations because you can limit the number of people who are waiting inside your facility. Plus, you can keep them and your staff safe.
Connect from Anywhere
When meeting using a secure, live video chat, your customers can connect from virtually anywhere — their home office, work, or anywhere else with an Internet connection. Using the pin provided, they can video chat with you as if they were in-person. The conference features file sharing, screen sharing, and more to make your interactions feel like they're happening IRL. Not only do you appease their schedule, but you offer an alternative to driving to your office to meet with you in-person.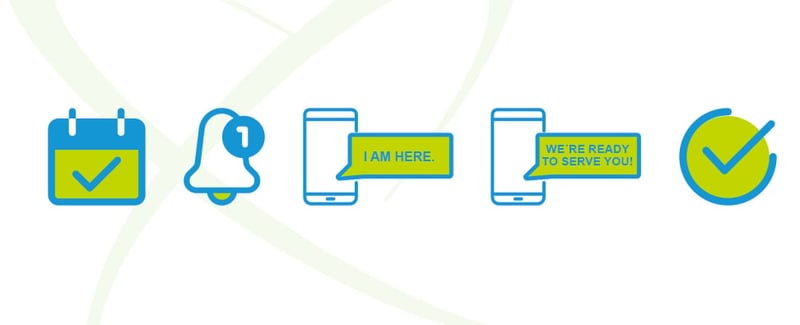 Q-Anywhere is an All-in-One Virtual Queuing Solution
Q-Anywhere combines Wait Anywhere, Check-In Anywhere, and Assistant Anywhere into a single, all-in-one solution that makes it easier to streamline the appointment process and see the people you serve faster. They can book an appointment ahead of time or join a virtual queue day-of — whatever works best for their schedule.
By using this digital appointment scheduling solution, you gain valuable data on how to improve your operations and performance, while freeing up your staff's time to focus on other things. Additionally, you'll improve the customer experience by providing flexible scheduling solutions that are sure to make a positive impression and break down those process inefficiencies. For more information about Q-Anywhere, contact our team today.