Integrating digital solutions that modernize and streamline processes in credit unions helps create a better experience for customers.
If we consider the variable clientele, plus multiple services provided, a shift toward digital transformation is a clear necessity. Streamlining processes make it possible to achieve optimal customer satisfaction across all areas of service provided.
Credit Unions offer customers multiple services, including health insurance, financing or lines of credit, occupational risk plans, and retirement funds. To successfully provide these services to customers in a way befitting a digital age, credit unions need to automate and modernize their processes to achieve quality service for customers.
5 ways to improve the quality of service in credit unions
Credit unions offer multiple services in their organizations. Optimization of resources in each branch are important for the development and productivity of staff, equipping them with the right tools to provide a better customer experience. It is essential to transform the existing technologies to provide efficient solutions to fit each service. Q-Flow® will help you provide an excellent customer experience and achieve branch success through:
1. Transformation and automation: Streamlining processes is key, allowing for better shift and workflow management through BPM, and appointment management through video calls and the implementation of queue management.
2. Process integration: Once processes are automated, procedures are carried out faster and more accurately.
3. Change management: It is necessary for staff to be trained to use the tools, thus allowing for the successful integration of a digital solution.
4. Customization of services: The ability to manage different factors through big data will allow you to deliver personalized options to a wide client base.
5. Expand coverage: Once implemented, a digital solution can expand to multiple branches, offering the same services, workflow processes, and personalized customer attention.
Digital environments and personalized attention in branches should be equally recognized
EY in the United States reported that, "Branches remain important, but 32% visit a branch less often than monthly, while 73% interact online or through mobile, and 88% of respondents are digitally engaged on some level."
While making a move to a digital platform is the right move, some customers still prefer to meet or retain services, person-to-person, at a physical location. Therefore, integrating a digital solution with existing technologies is beneficial. Aligning both channels offer customers varied options that will fit their personal needs, creating an improved customer experience.
Customers can interact with chat-bots on web pages that offer remote help and direct customers to branches, if needed. An omnichannel offers services and delivers information across different channels so customers can receive relevant information through their preferred channel. Video call management offers remote attention, a virtual representative to speak with face-to-face, security, and confidentiality.
While these services aid in improving the customer experience, there are further advantages, for both your staff and your customers' satisfaction, to implementing a Queue Management solution:
SELF SERVICE CHECK-IN
Automated check-in makes the arrival process more efficient for customers and staff
CUSTOMER VERIFICATION
A system automatically verifies customers' identities, providing a seamless and secure check-in process
AUTOMATED WAIT TIME ALERTS
Manage customer expectations and improve their experience by alerting them of wait times

CUSTOMER TRACKING


Get real insights into customer behavior through detailed analytics

VISUAL AND AUDIBLE CUSTOMER NOTIFICATION


Ensure your customers don't miss their slot, holding up operations

REAL-TIME AND HISTORICAL REPORTS


Staff helps customers avoid long wait times by scheduling appointments based on detailed data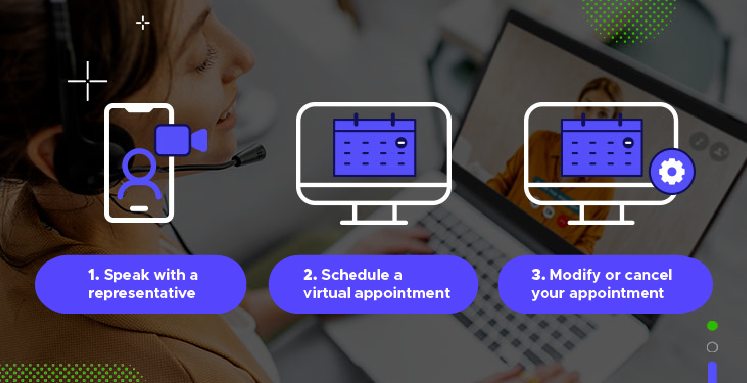 Digital transformation is a success in the financial sector in Colombia
Colombia is one of the Latin American countries most open to digital transformation in the financial sector. This was reflected in the increase in the use of digital platforms during the pandemic. According to the EY Parthenon study, Columbia saw a 59% increase, but it also pointed out that 40% of respondents still did not feel comfortable doing certain procedures such as opening accounts, making deposits, requesting loans, and negotiating debts on a virtual platform. For one major bank, integrating a digital solution to improve processes was the right answer to provide an excellent experience for customers online and on-site:
Davivienda, a Latin American bank with branches spanning multiple countries, including Columbia, implemented our Q-Flow solution and achieved reduced wait times by up to 80% using self-service check-in, and 100% of customers claimed zero wait time when using the web platform. Further, their staff was able to streamline processes, give more attention to customers, and provide a more satisfactory experience for their customers.

Are you interested in achieving optimal process management and an improved customer experience at your credit union? Contact us and schedule a demo.