Did you make it to the HIMSS 2021-Global Health Conference & Exhibition? We had a fantastic time and we'd like to share some of our post-show thoughts and considerations, based on the buzz from some of the key-note speakers as well as the conference education topics.
1. Pandemic Response
As expected, this was a big topic. Digital health can make a real difference in tackling future health crises, as well as the crucial need for telemedicine. So how can this apply to the average healthcare organization? Well, we offer many different solutions to help bridge the gap between patient and provider. The most important to note is our Assistant Anywhere solution, which enables your organization to host secure, real-time video calls with patients. A solution like this is a must-have for the healthcare industry today, as it offers a veil of safety that can't be provided in face-to-face interactions.
2. Healthcare Applications and Technologies
Ooo, a favorite of ours. If you got the chance to speak with us in person at HIMSS21, then you definitely heard a lot about our healthcare solutions. But how can these be applied in the workplace? Many organizations may struggle with implementing software that is compatible with their EHR technologies, but thankfully, that's a spot we have covered! In our recent eguide, we discuss how Q-Flow is compatible with EHR systems through seamless integration. Click here to check it out.
3. Data & Analytics
This, of course, is an essential tool for anyone in the healthcare industry. Data and analytics provide a thorough insight for health systems that are pursuing an overall digital transformation. These tools can help create a dramatic difference in the healthcare industry that not only helps staff members but also helps organizations save money. But while data and analytics can seem like a complicated topic... it doesn't have to be! Through our Insight Data Cube and Reporting solution, we offer organizations the opportunity to measure and manage online reports, examine a real-time performance reporting dashboard, and use reports to examine data at the most granular level. Curious? What not try a demo?

4. Applied Artificial Intelligence and Machine Learning
The future is here! Artificial Intelligence and Machine Learning solutions are reaching a new height now more than ever. These solutions allow healthcare workers to leverage the way healthcare data is analyzed and delivered, providing new ways to plan and forecast the future. Through our AI and ML solutions, we enable organizations to predict upcoming trends and challenges in the industry. Who knew robots could be so helpful?
5. User Experience, Usability, User-Centered Design
And lastly, as we are known as Customer Experience Experts, why wouldn't we talk about user experience? Our solutions were designed with the sole purpose to provide a fantastic customer experience, from start to finish. Whether that be through Appointment Scheduling, Queue Management, Wayfinding, etc., we want the user experience to be one that they will remember- and one that will keep them coming returning to your organization for years to come. But what's the secret to a successful customer experience, you may ask? Well, listening to your customer, of course! Our Customer Feedback solutions offer customers a quick survey as soon as they are finished with their visit. This allows your organization to record their opinions, improve experiences immediately, and analyze online reporting and service metrics. We want to take the famous saying, "The customer is always right", to another level!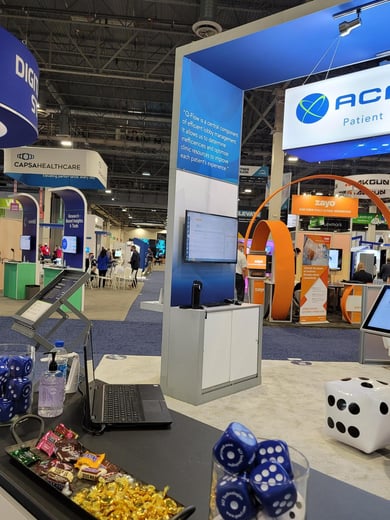 In conclusion...
Overall, ACF Technologies took the opportunity to attend HIMSS21 to show off our healthcare solutions. With our software, Q-Flow, we give the healthcare industry the ability to focus on the patient experience, therefore ensuring not only growth but also patient satisfaction. Q-Flow reduces stress by allowing appointments to be booked in advance, therefore eliminating lines. This ensures that waiting times are vastly reduced and the office is a much more organized environment, thanks to queue management.
If you would like to learn more about what we can offer your healthcare organization, schedule a demo today.