A good PX is crucial to the success of healthcare organizations, but it is the healthcare center's objective to provide outstanding and remarkable service for all.
Veterans' health care is no exception to this rule. Their Patient Experience needs to be handled with the same care that other healthcare practices administer to other patients.
No one enjoys waiting in line, whether in person or virtually. People tend to avoid tasks that involve waiting in line unless necessary. Thankfully, technology has seen great advancements in the past decade. These advancements have improved the customer experience and changed how patients spend time in queues.
Queue Management is a process that aims to improve businesses by managing patients' waiting experiences. A Queue Management System ensures that patients are served in the correct order and gives patients accurate estimated wait times. The journey is mapped from pre-service to post-appointment feedback, ultimately reducing wait time and increasing patient satisfaction.
While many businesses implement a Queue Management System, healthcare is the industry most impacted by the results.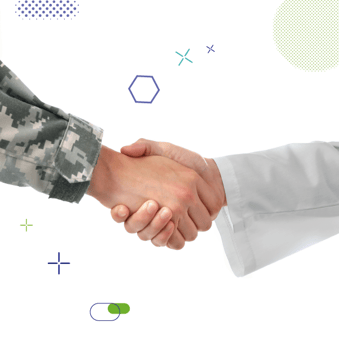 Every minute counts for PX
As in many countries around the world, in the United States, the Patient Experience (PX) is a major priority in the healthcare industry. Within this, improving the Patient Experience for the nation's veterans is also a priority. By implementing a patient-centric approach, Veterans and their families can access necessary health care quickly and efficiently.
The Veterans Health Administration is the largest healthcare system in the United States. It serves approximately 9 million enrolled veterans annually and provides care at 1,454 healthcare facilities. With numbers rising, it is more important to count on technology to improve the Veteran's PX.
In April 2016, Carl R. Army Medical Center opened Fort Hood's hospital, introducing a new solution focused on patient comfort and well-being. Q-Flow® changed the way patients navigated and interacted with the hospital system.
How Q-Flow makes a difference in the Patient Experience (PX)
Q-Flow is a Queue Management System that replaces the traditional way of booking and attending appointments. It allows patients to choose a clinic for their appointment, book online, check in virtually, and manage their appointments and information quickly and easily.
The Q-Flow platform further helps improve PX by streamlining and automating back-office processes, allowing the staff to spend more time on patient care.
The goal of a Queue Management System is to transform the digital structure within the hospitals to achieve optimal patient Experience for Veterans.
Additional benefits of implementing this software include self-service check-ins, secure customer verification, real-time and historical reports, and real-time updates regarding appointment time, queueing time, and the assignation of staff to patients based on their needs. The customer journey is optimized from the beginning to the end.

At ACF Technologies, our mission is to provide solutions to improve the healthcare systems for our Veterans. We aim to supply digital transformation tools that enhance the patient experience.

To learn more about what our Q-Flow solution can change for your hospital or clinic, schedule a demo or contact us today.