As with many other industries, automotive is changing the way it addresses its customers and the challenges they need to overcome this 2023.
It has become clear that prioritising customer experience (CX) is a primary goal for all businesses, large and small, worldwide. To that end, many brands have studied their customers' behaviours, likes and dislikes, how they spend their time while visiting the website or walking around the store, and the list goes on.
Knowing what customers want can help businesses improve their offerings, from the customer journey to the product itself. And by analysing where buyers are likely to take your service or product to the next level, you can learn what you're doing well and where your CX pain points are.
The automotive industry is no exception. In fact, it has the same three levels of customer experience pain points as any other industry: interaction level, journey level, and relationship level.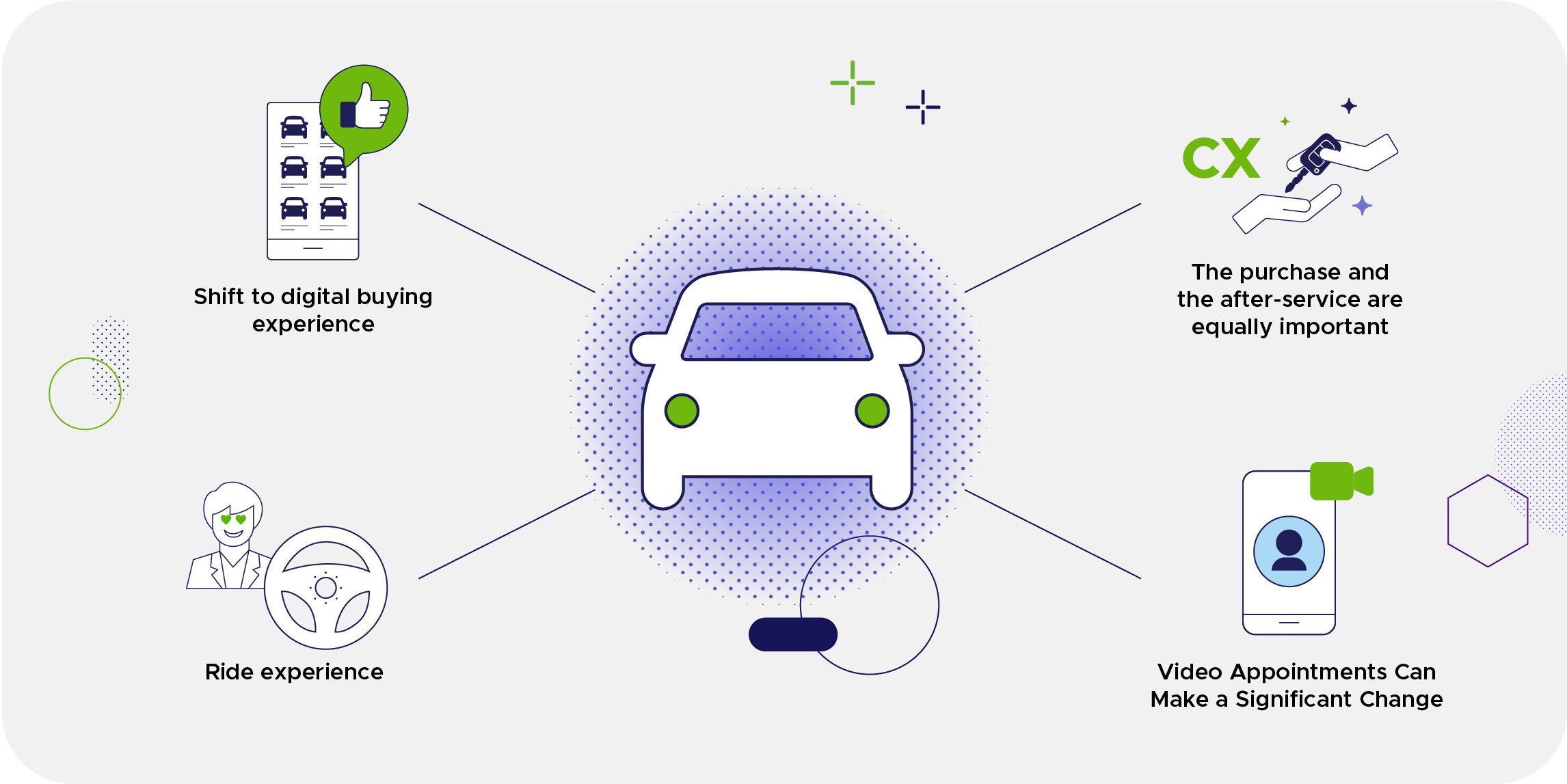 How can your business address these pain points and make them better?
Automakers are rethinking their sales and marketing strategies, given the shift from a product-driven to a customer-centric business model. As a result, the automotive industry is undergoing a slow but steady transformation.
Here are four trends to keep in mind to overcome the previously mentioned pain point and improve the CX of the automotive industry in 2023.
Shift to digital buying experience
The transition to a digital purchasing experience in the automotive industry remains slow. Although there are notable changes in the market for automobiles and mobility services, one critical consideration is understanding the value customers place on each stage of their purchasing journey and how they want to engage.
Digital is the first point of contact between a brand and its customer. The customer researches cars and compares them. In fact, some automotive companies offer 3D car tours, giving customers a virtual experience.
Customers rely on social media and peer review channels to gather information, compare prices, and make purchases. As a result, automakers must devise strategies that allow customers to customise their experiences.
Ride experience
It is well known that the ride experience has caused a significant shift in the automotive industry. It is a trend that alters how automotive customers interact with the brand and its products.
Customers nowadays expect to be satisfied with their vehicles right away. They want to feel heard, and they want to feel at ease when they get into their cars. They just want to have a good time.
Customers can opt for home test rides to fully immerse themselves in the experience. Adding to the traditional model of visiting a dealership to compare prices and options before committing to a single vehicle.
This customer-centric approach focuses on making drivers feel at ease and comfortable behind the wheel of their preferred vehicle. It goes beyond technical specifications and driving performance and includes comfort and pleasure.
The purchase and the after-service are equally important
When it comes to engaging with a brand, receiving personalised service, and expecting better product offerings, consumers are becoming more discerning and demanding.
As a result, automotive manufacturers and dealerships focus on purchasing and after-sales CX.
Customers' interactions with automakers, dealerships, and retailers are also changing in the automotive industry. They are now looking for retail experiences that go beyond simple transactions.
Video Appointments Can Make a Significant Change
At ACF Technologies, our mission is to provide digital solutions for customers to have the best experience possible. That's why we've developed Assistant Anywhere.
This software improves efficiency across each organisation by connecting customers with staff members anywhere in the world. This personalised digital interaction also reduces cost-per-interaction and shifts customers, to more efficient engagement channels.
Also, counting on Video Appointment solutions helps organisations to meet the increasing demand for virtual appointments. It connects customers and staff faster and more personally through secure, live, and interactive video sessions.
It is no news: the automotive industry is rapidly changing. Modern consumers are digital-first and even more informed than previous generations' consumers.
As a consequence, they expect a certain level of personalisation in the service, from the in-person dealership experience to the brands they buy from online.
To stay competitive, this industry needs to engage with targeted consumers and enable digital experiences across all of its channels.
To do that, they must capture regular customer feedback throughout their customer journey and provide real-time insights to create seamless experiences. By ensuring customers are notified of their appointment times and requirements with push notifications, SMS, and email alerts.
Customers are also looking for operational efficiency from the staff and real-time availability.
By applying ACF Technologies digital solutions, automotive industries can understand their customers' needs, motivations, and preferences. All this information will be able to improve CX's strategy and the customer journey. And these insights will enable automotive companies to stay ahead of their competitors and gain an advantage with a customer-centricity service.