Platforms such as Artificial Intelligence, Machine Learning, and Robotic Process Automation (RPA), can be used by any type of organization or project and are key to achieving improvements in the customer experience.
Artificial Intelligence (AI), a branch of computing where intelligence is processed by machines, can perform tasks that normally require human intelligence. Machine Learning is a part of Artificial Intelligence, which automates processes digitally by learning, imitating, and executing tasks. The Robotic Process Automation replicates the actions that a person performs when interacting with an information system.
Apart from the replacement of tasks that are traditionally done manually, there are other relevant processes of Artificial Intelligence:
The ability to classify, organize, and deliver data
Connect to API while extracting information
Make service time calculations
Manage workflows
Move and organize files
Adapt to any interface or process


Dramatically improves services and competitiveness
Artificial intelligence delivers operational benefits that optimize competitiveness by delivering greater precision and improving business results. It is easy to implement, it helps in the transformation process, and it can increase efficiency in all types of business regardless of its logistics or size.
In addition, it is within the reach of medium or small companies, and its combination and implementation together with robotic process automation allows the ability to obtain significant results, such as:
Increased productivity:

Automated processes run faster, in addition to streamlining decision making, forecasting, optimization of times and routes, as well as predictions from multiple sources of structured and unstructured data.
Greater precision: Companies having more productivity deliver greater precision in their planning cycles. In addition, process automation ensures better decision-making, and with less human intervention, possible errors in processes that were previously performed manually are eliminated.

Cost reduction and rapid ROI (return on investment):

A Deloitte study claims that intelligent automation will provide an average cost reduction of 22%. It is estimated that organizations that have implemented intelligent automation will achieve a cost reduction of 27%, from its implementation to date.

Integration with different platforms:

The automation of processes and applications allow interaction with practically any system that already exists, which leads the organization towards digital optimization.

Improve customer experiences:

The use of this technology helps you better understand customer needs to communicate more effectively, improving the time to answer their questions. In turn, customers feel more satisfied with their purchase experience or use of the service.
According to Forrester Consulting, 73% of consumers believe that their satisfaction is the greatest impact that customer service can provide.
Provide scalability:

These platforms lead processes from large to small companies, and these can be established in a scalable way helping a progressive digital transformation, improving tasks from the information collected in each process.
"This has a lot to do with organizations, and in many times their services are not aligned, but are fragmented by areas: digital attention, face-to-face attention... Here, ACF delivers value, and it is to help understand that the organization should have an integrated care process that includes all channels…. this can be done in a scalable way." David Mejías, VP Consulting, and Engineering Latam, ACF Technologies.
Smart automation
Access to quality information is essential for decision making, detection of improvement points, and obtaining greater profits. There are different strategies to obtain this information in an automated way and convert it into actions, and these are:
Predictive analysis: with algorithms developed through the study of large data sets
Adaptive analysis: with self-learning algorithms that improve with each interaction
Traditional business rules: which allow users to prioritize between decisions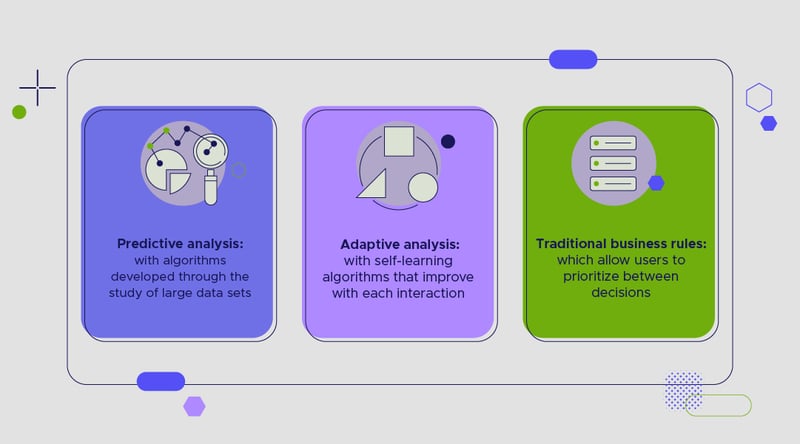 Under these strategies, it is possible to study all the potential actions that can be carried out with a client. This must work with an omnichannel to provide a consistent experience, as the customer can be on the web, in a mobile app, or signing up for a contact center.
The ability of AI makes processes much easier, allowing you to think about the objectives instead of analyzing the during or "how to do it." The use of intelligent tools such as Machine Learning through chatbot or virtual assistant deliver key knowledge to make automation more efficient and able to deliver fast solutions to customers.
This is why we see the combination of Artificial Intelligence (AI), technologies such as Machine Learning and the automation of robotic processes together with the automation of business processes.
"In ACF Technologies for example, on the one hand, we have Artificial Intelligence to take the data collected historically to generate models and automation algorithms that are consistent. And on the other hand, the face-to-face service and post-sales processes go directly to a back-office, where there are many opportunities to optimize."
"It is not just a queue system in a branch, but a more integrated service system. There are a variety of channels that should be combined to achieve optimal management." David Mejía VP Consulting and Engineering Latam, ACF Technologies.
Perhaps we can imagine a future, without limits for planning or system management. And that's what ACF is here for, to become a partner during consulting, developing a strategy, and implementing the necessary systems for each automation, regardless of size or sector to which it belongs.
Want to learn more?
Schedule a call with our sales team and learn how to transform your customer experience.