Now there's light at the end of the tunnel after two full years of the coronavirus pandemic, we're starting to see a shift in healthcare from simply surviving to how to best meet patient needs as we step into "the new normal".
Two years of lockdowns and virtual appointments have irreversibly changed the way patients access healthcare services. Before COVID, virtual care and digitalization were buzzwords to most healthcare organizations. Now they're essential, with patients expecting convenient access to care on their terms as a bare minimum.
Patient needs have fundamentally changed – and consumers are set to demand even more from healthcare providers in the coming years.
To help you keep one step ahead of patient needs, let's take a deep dive into the six key patient experience trends your healthcare organization will need to respond to thrive in the post-COVID world.
Digital transformation
Healthcare organizations have been put under considerable strain throughout the pandemic. They've had to adapt to staffing shortages, hiring challenges, and triaging difficulties due to historic call volumes.
The healthcare providers who've overcome these challenges most effectively have been the organizations that embraced a digital transformation of their services – something which shifted from a buzzword to a must during the pandemic.
And there's no going back now that we're coming out of the other side of the pandemic. Easy access to modern healthcare services tailored to their exact needs is what patients have come to expect over the last two years. This is perfectly illustrated by a recent healthcare consumer survey from Deloitte, which revealed consumers are "increasingly exercising agency, engagement, and control over most decisions about their health and well-being".
And empowering your patients with this kind of experience begins with a wholesale digital transformation of your services.
Personalization
Healthcare organizations aiming to thrive in the post-COVID world shouldn't make the mistake of thinking a digitized service offering has to be cold and impersonal.
In fact, as healthcare goes digital, each step in the patient journey can actually be made to feel more personal. You can empower patients to engage with your services however it best suits them and in a way that's personalized to their clinical requirements and patient preferences.
This allows you to create a more familiar experience for the patient despite fewer face-to-face interactions. And when people do arrive on-site, they'll be greeted by a member of staff who has the time to engage with them, since their workload has been streamlined by digital services.
Proactive Patient Care
Today, healthcare doesn't begin and end when a patient walks into a clinic. Patients now expect to be kept informed each step of the way and have agency over their healthcare options.
This can be achieved by sending patients digital resources at key points during the patient journey that keep them informed and walk them through the options available to them.
Automated reminders through a virtual queuing system also help you provide proactive care that puts your patients in the driving seat, empowering them to rearrange or cancel appointments with just a few taps of their smartphone's screen.
Workforce management tools
One fallout from the pandemic has been major skills shortages across several sectors – with healthcare being hit particularly badly.
Getting the most from a depleted workforce is, therefore, top of mind in every industry, but is especially important for healthcare organizations, which are particularly susceptible to staff shortages on the frontlines of fighting COVID. For example, NHS staff were in "despair" over the 2021 festive period due to severe staff shortages caused by the Omicron wave of coronavirus.
This year, a priority for healthcare organizations is to protect themselves from being ground to a halt by a repeat of these kinds of staff shortages in the midst of another COVID variant.
Solutions range from staff management systems and virtual appointments to cutting-edge conversational AI – all of which help staff offload repetitive tasks. This frees your frontline staff up to focus on the kind of high-empathy patient interactions that are not only more meaningful and engaging but can drastically improve patient retention rates.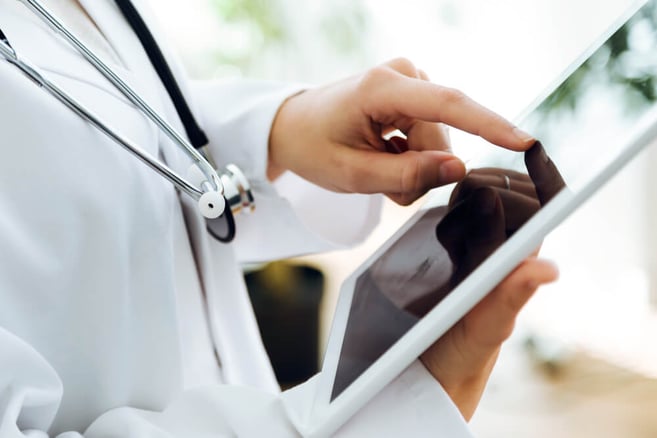 Hybrid healthcare
Plenty of your patients are set to stick with virtual appointments and a fully digital healthcare experience wherever possible. The pandemic has accelerated the transition to digital healthcare, and it's set to play a fundamental role in the management and care of patients with everything from seasonal flu to chronic disease.
And personalized virtual care is being facilitated by a new generation of mobile medical applications that empower patients to manage issues like diabetes, circulatory and digestive problems, and mental health issues.
Virtual appointments also make healthcare accessible to everyone, from people who struggle to leave their homes due to mobility issues to those who live in rural areas and don't have easy access to healthcare.
Of course, in-person healthcare is also here to stay. Some patients will always prefer to go out of their way to see a healthcare professional face-to-face, while there are always going to be healthcare services that need to be performed in person.
As we step into "the new normal", 2022 is set to be the year of hybrid healthcare. The test for healthcare providers is how well they're able to integrate digital and in-person services as a hybrid offer.
Giving patients a voice
The most successful healthcare organizations in the post-COVID world are set to be the providers that give their patients a say in what "the new normal" looks like. This is uncharted territory for us all, and the more of a voice you give your patients, the more likely you are to stick with them in the years to come.
Empower your patients to provide real-time feedback about their experience of accessing your services and they'll not only offer suggestions to help you refine your approach to hybrid healthcare, but also help rebuild their trust in the healthcare system.
You can then leverage next-generation solutions like Analytikus to analyze your patients' experiences, preferences, habits, and needs to provide the best possible hybrid healthcare service.
Summing up
2022 is going to be a huge year for the healthcare sector.
How your healthcare organization responds to the years' six key trends – digital transformation, personalization, proactive patient care, workforce management tools, hybrid healthcare, and giving patients a voice – will determine how successfully it manages the transition to the post-COVID world.
One thing to keep in mind throughout this year is that your approach is never going to be perfect straight away. And you'll be far from alone: 60% of respondents to a Deloitte survey rated their healthcare organization as "midway" through their digitization journey while acknowledging that "the transformation journey is longer than they had initially expected as the opportunities and definition of digital transformation expand".
The key takeaway here is that you're not going to perfect your hybrid healthcare offer overnight. You're likely to drive the best results if you make the most of the tools already at your disposal rather than trying to reinvent all your services at once.
For ACF customers, that means baking tools like queue management, smart appointment scheduling, and Q-Anywhere into your organization's processes to respond to 2022's key patient experience trends and thrive in "the new normal".