What's next for retail in 2023? The future is all about understanding customers' needs and demands, hybrid experiences, and empowering experiences.
In 2023, retail sales worldwide are forecast at $30.3 trillion (4.5% more than this year). From 2020 to 2026, total retail sales are expected to rise by $9.2 trillion. These numbers are not a surprise. During the year of the pandemic, customer behaviour changed, and so did its demands. As a result, the retail landscape (which was already undergoing some changes) mutated to adapt to what customers were asking for.
Customers know what they want and are not afraid to ask for it or go elsewhere if their demands are not satisfied. Companies must stay on top of retail trends, which will impact their success in getting ahead of the competition. Nowadays, it is all about Customer Experience (CX) and fast and good responses. So, what's new for the retail industry in 2023?
Here are some retail trends you must know to face in 2023, like a retail expert:
Supply Chain Vulnerability and Global Crises
Yes, to face 2023 like an expert, it's important to know from where we are coming from and what's the current context. The global upheaval of 2022, is challenging retailers globally.
The economic uncertainty caused by the end of the pandemic, followed by the cost of living crises, the war in Ukraine and labour shortages, are some of the realities retailers are forced to face and overcome in their own way since these scenarios are creating significant headwinds.
Despite everything, customers expect good services and transparent shipping. They also look for sustainable goods, fair prices, and strong customer support.
2023 and the next years to come will demand retailers to be flexible and agile. Technology, innovation, and learning and applying retail trends can meet these customers' demands.
Customers want to get involved and be part of the change
Customers are now active and want to share their experiences and feel their needs are being heard. That's why there's an increase in relevance for consumer reviews, and businesses focus more on people-centric experiences.
The advance of technology made it possible for people and businesses to be all around the world. Not only by shipping their products but by sharing how those products and services are being provided. Moreover, 32% of the global population is committed to buying from brands with a purpose. This is a result of the last decade that has shown that the retail industry could positively impact society and the planet if it wants to.
Emily Xu, director of marketing for Mitchell Gold + Bob Williams, says that "the store will become more of a hub of a community in the future." For 2023 and the years to come is not only about enabling a unique experience but building a sense of community that turns consumers into active individuals that can bring something to the table.
In the next years, traditional outlets can become places where retailers and consumers come together to design, discuss, and co-create products. Known as "in-store experience", these collaborations invite retailers and consumers to push sustainability and target values-based experiences. This concept, for example, presents the opportunity to bring together consumers, employees, and local experts to collaborate on circular projects that repair or recycle previously purchased items.
Customers are now active individuals looking for experiences that make a difference in their societies, the environment, and the world. It's no more about the last trend but more about making an impact and acting. In fact, according to Shorr's Sustainable Packaging Consumer Report:
76% of the customers say they are making conscious decisions to purchase more sustainable products.
86% agree that they are likelier to buy from retailers with a sustainable package.
77% expect more brands to offer 100% sustainable packaging in the next few years.
Experience-related spending has grown, outpacing every other form of expense:
Millennials spend an average of US$164 a month on entertainment, US$30 more than Baby Boomers.
The fear of missing out, or FOMO, is a byproduct of the experience economy.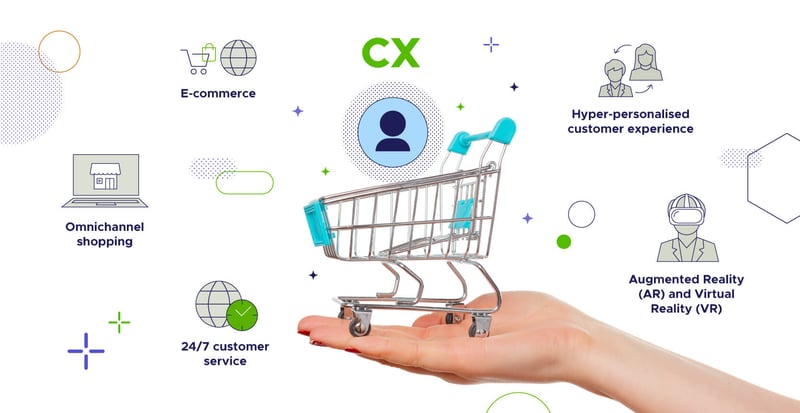 E-commerce is Here to Stay
Ecommerce was already popular when the Covid-19 pandemic started. Still, its reputation exploded in 2020 since people could not get out of their homes but still needed to have access to products, services, and goods.
Although its growth has slowed, shopping habits are still very much here to stay. Social commerce is on the rise thanks to technology, which has made it easier than ever to sell online. Today, 58.4% of internet users are buying online each week, and for 2023 those numbers are expected to grow.
eMarketer predicts that by 2023 e-commerce websites will make up 22.3% of total retail sales. As a result, there are now an estimated 12 to 24 million e-commerce stores globally.
In the United Kingdom, 5.7 million households for their holiday groceries online. Tesco's online grocery sales reached more than $1.38 billion during the 19 weeks. While Sainsbury announced that during the Christmas season, they had a 128% growth in online grocery sales.
What does this mean for retailers? That they should commit to the e-commerce experience now more than before. This is the start of a retail era where online shopping is non-negotiable for consumers.
Omnichannel shopping
As mentioned before, retailers must integrate in-store and online experiences to be competitive.
As a result, omnichannel has quickly become the norm. Since consumers want to be able to research online what they need and, afterward, buy in-store. Or the other way around. That's why in recent years, 60% of consumers say they conduct online research before purchasing, and 80% of the time, a consumer returns a product in-store and spends the refund with the same retailer.
In the case of in-store experiences, retailers need to elevate their customers' experiences by providing them with technological changes such as check-out free and touch-free shopping. These options can give a sense of safety to customers and, at the same time, accelerate the reduction of physical interaction, a consequence of the Covid-19 pandemic that still matters.
This means that in 2023 and in the years to come, retailers need to provide integrated online and offline experiences.
24/7 customer service
Now more than ever, customers are expecting outstanding customer service. This means not only a good Customer Experience but that the business must always be available for its customers. This is especially true for global retailers with customers worldwide with different logistics and time zones.
By being reliable 24/7 and providing customers support when needed, relationships with customers improve, which helps them mitigate frustrations caused by issues out of their control.
Since it is unrealistic to have a human support team available 24/7, chatbots can now boost CX and adapt to their requirements (such as time zones and language preferences).
Chatbots are the newest team members, and they can help businesses to:
Save money.
Provide better customer service.
Interact with customers on multiple channels at scale.
Deliver always-on customer service.
Expand globally without taking on more overhead.
Engage customers.
Automate personalised experiences for shopping.
Gather feedback and data.
Social Commerce is a thing and it's Working
Most businesses use social commerce as a sales point to thrive and be competitive.
75% of retailers are now selling on social media, 43% that sell on social platforms ensure that half or more of their profits come from social media sales.
2.65 billion users are part of the social media experience. So, retailers should leverage social media toolkits and strategies. In fact, some social media giants are now testing ways to load payment information into their platforms. Although it's still experimental, Instagram is one of the first to try this idea.
Millennials and Gen Z use social media as search engines, so it is important to create shoppable posts, live selling and set accounts on platforms such as TikTok and Instagram. 2023 is the best time to start your social media shop experience!
Hyper-personalised Customer Experience, the New Norm
In 2020, a survey reported that 96% of customers would leave a brand if they didn't get good customer service. In fact, 62% of people are willing to pay good attention.
In the last years, customers have become more demanding and expectant of a good service that's both hybrid and adaptable to their requirements. They want retail brands to give them what they want when they want it.
Now, to provide a hyper-personalised experience, retailers must count on data, artificial intelligence (AI), and marketing automation to create targeted experiences. Up to date, retailers are investing only 0.7% of their revenue for this, but those who are paying attention to what's yet to come are about to invest 0.9% expecting to increase the amount in the next three years.
An analysis reported that 80% of retail customers are more likely to make a purchase if they feel that the company is focused on their personalised experience. 90% of the people find it appealing. While 40% may walk away from the brand due to poor personalisation efforts.
Automation has done many positive changes throughout the years, but 2023 seems to bring new and faster proposals. As a result of the conflicts that society is going through, those retailers that show resilience and efficiency will thrive. Efforts will pay those that can adjust to 2023 demand but also double down on automation to reap a competitive advantage.
One of the cases coming in the next year is data-driven automation. One-third of enterprises will prioritise data-driven automation with data events or applications.
As a result, it is crucial for retailers to pay attention to the personalisation they can offer to their customers, get to know them, and provide the service in a hybrid way for customers to have a good in-store and online experience.
Create interactive retail experiences with Augmented Reality (AR) and Virtual Reality (VR)
Static images and videos don't work for customers anymore. Now is all about visuals and movement; that's why AR and VR will be great allies during 2023 and the years to come.
These experiences provide a richer and more delightful virtual shopping experience and keep customers entertained and informed.
Nowadays, only 1% of retailers use AR and VR. So, it is a great opportunity to start 2023 on the right foot and try these alternatives.
Both VR and AR are accessible and simple. At the same time, they can help boost CX by giving them a unique experience when it comes to getting to know your products and services and convincing them to purchase them. Source: Finance Online
Some VR and AR ideas in retail are:
Put QR codes on your products to allow customers to scan them and view information about how and where it's being made.
Allow customers to visualize themselves using your products and pick out what's best for them through a filter on social media platforms or through your app.
Use virtual reality goggles to allow consumers to experience your products.
2023, Here We Go!
The global context is complicated and is challenging retailers worldwide. Still, customers expect an environmental commitment, fair prices, and strong customer support.
The years to come demand retailers to be agile and flexible. Finding ways to meet what customers are demanding boosts by innovations, technology, and paying attention to what's yet to come.
Engage with customers on your website or social media and turn customer conversations into sales.