The COVID pandemic has prompted providers to rethink how they provide patient care. While some of those adjustments will likely be short-lived (temperature-taking, for example), others are here to stay. Virtual waiting rooms are one of those things.
Sitting in a waiting room wasn't appealing to patients before the pandemic, and it is even less appealing now. Physical waiting rooms make it difficult to control for social distancing and implement infection-safe protocols. Plus, they're simply inconvenient. Yet, there are some benefits to physical waiting rooms that are missing in the virtual world.
For the best patient experience and the most efficient patient flow, the ideal virtual waiting room of physical waiting rooms while also integrating the beneficial aspects.
What a Virtual Waiting Room Is—and Isn't
A virtual waiting room is a contactless, remote way for patients to check-in for their appointment and wait in a location of their choosing until the provider is ready to see them. Many functions of virtual waiting rooms can be automated, and often include features like:
Remote check-in
Digital completion of pre-visit paperwork
Text message alerts
COVID screening questions
Wait time updates


These are just a few of the features that differentiate a virtual waiting room from having a patient simply wait outside.
Why the Telephone Is Not the Best Option
Over the past year, it's become common practice for patients to arrive at their appointment and call the provider's front desk from the parking lot to let them know they've arrived. Then, when it's safe to enter, someone from the practice calls the patient back to let them know.
While this is an inexpensive and readily available option, it doesn't make for the best patient experience. For example, if either party is on the phone, phone tag will ensue. There is no easy way to update patients on their wait time or place in the queue. A patient could become frustrated with waiting and enter the lobby anyways, breaching COVID protocol. On the provider side, the telephone method takes a significant amount of staff time—time that could be better spent elsewhere.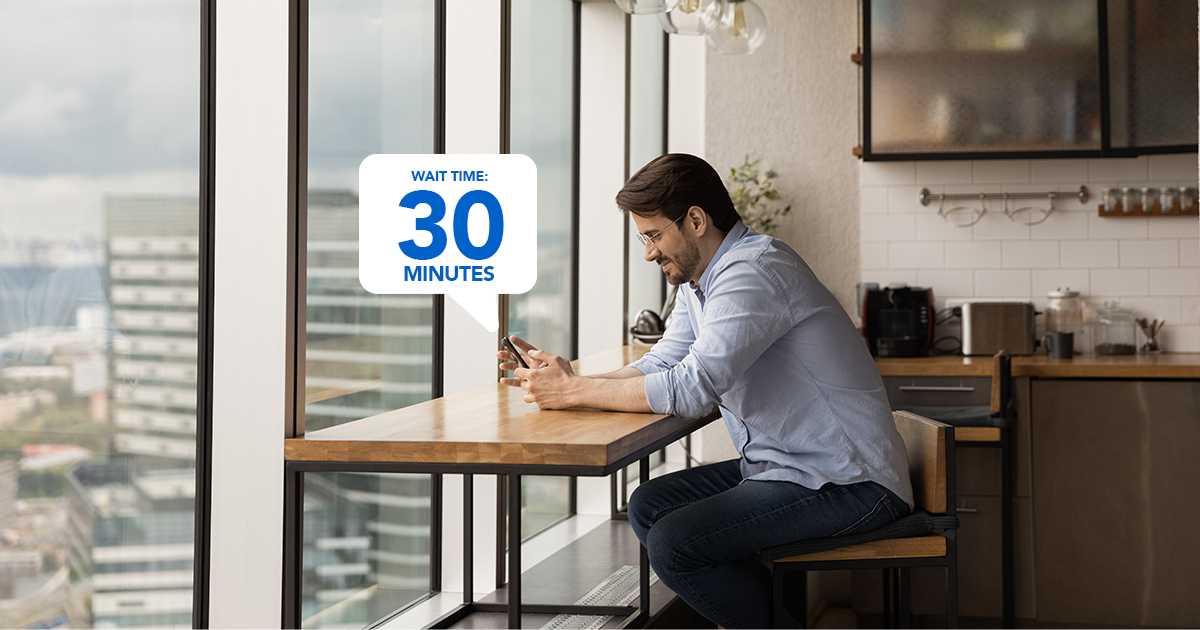 Virtual Waiting Rooms Build and Maintain the Patient Relationship
In a physical waiting room, patients may feel like someone on the staff is paying attention to them. However, this isn't always the case—in fact, it is often up to the patient to request wait time updates. And yes, they can see other patients coming and going, getting a sense that "the line is moving." But this can be harmful rather than helpful—the patient may become frustrated that others are being seen while he or she is still waiting.
It may seem counterintuitive that a virtual waiting room can provide the same—or even better—level of communication than a physical waiting room. But while the patient and practice staff are physically distant, a virtual waiting room more than makes up for this by reducing psychological distance.
That psychological sense of closeness is integrated into a virtual waiting room. Far from being "out of sight, out of mind" patients can enjoy even more communication than they would receive in a physical waiting room, starting well before the appointment. For example, patients can receive a check-in notification before their visit. Far from a simple appointment reminder, the notification can also:
Let them know what to do before they arrive, like completing a form or pre-visit checklist.
Inform them of exactly where to go and what to do when they arrive (i.e. wait in their vehicle and click a link to check-in).
Integrate the patient into the provider's workflow based on customized parameters (if their answers to screening questions necessitate a change in procedure, for example).
Virtual Waiting Rooms Take Advantage of Automation
Once the patient has checked in, they can receive an estimated wait time, including regular updates. This gives patients the all-important sense of flow and movement that the patient would normally get in a physical waiting room. They are constantly aware of their place in line, without having to request updates from staff.
Virtual waiting rooms automate much of the work that staff must take on in a physical waiting room. In addition to saving staff time and effort, this enables the patient to be seen by the provider the moment they enter the practice. In turn, this makes the visit faster and more efficient, either allowing the provider to increase patient volume or spend more time with patients when necessary.
Conclusion
Both healthcare providers and patients can benefit from virtual waiting rooms—and the technologies that enable them. Even so, the physical waiting room isn't disappearing. For example, there will still be patients who cannot participate in a virtual waiting room model (for example, lack of a phone, or using public transportation). Integrating your physical and virtual waiting room will help you prevent lobby crowding and maintain social distancing, all while creating a better patient experience and increased staff productivity.