COVID-19 vaccine implementation is well underway, but it will still be many months before everyone who wants a vaccine is able to get one. Plus, uncertainty still surrounds how long vaccines provide immunity and how effective they will be against COVID's many expected strains. That means healthcare providers will be administrating vaccines—on top of yearly flu shots and regular patient care—well into the foreseeable future.
There is no one-size-fits-all solution for incorporating vaccine administration into the regular patient flow of your organization. But regardless of whether you operate a mass vaccination site, a vaccine pop-up, or are working COVID vaccination into your regular practice, there are common steps you can take to successfully incorporate COVID vaccinations into your daily workflow.
1. Map Your COVID Vaccination Workflow
All providers have the same basic goals when it comes to vaccine administration: to administer the vaccine to as many patients as possible in as little time as possible. That must be combined with no waiting, no bottlenecks, no vaccine waste, a positive customer experience, and a clean, safe environment.
To ensure all of those things actually happen, you need a flawless patient flow, and you can start by mapping out every single step patients will take from the time they arrive at your site until the time they leave. This will likely include more steps than you think, including
Enter parking lot (will they check in remotely?)
Enter building (which entrance?)
Enter elevator
Front desk (when will insurance be verified?)


Mapping this process as specifically as possible will help you to anticipate bottlenecks, plan for staffing, and vaccine storage—essential because if one part of the chain is broken, the rest will all be affected. Of course, your steps will vary. For example, if you are using a mobile check-in, patients may answer screening questions in their vehicle instead of at your front desk. If you are billing insurance, you may save time and reduce crowding in your lobby by verifying insurance information at the time of scheduling or confirmation, instead of arrival.
2. Make Adjustments for Staffing Needs
The ability to administer vaccines while attending to regular patients depends in large part on your staffing levels. At a "relatively streamlined" vaccination site, one provider could administer vaccines to 7-10 patients per hour with two support staff, according to a recent estimate from consulting firm McKinsey & Company. To put that in perspective, this is much slower—and about 3.5 times more labor-intensive than administering the seasonal flu vaccination.
Keep in mind that when you allocate staff for vaccination needs, you are also redirecting them away from their regular tasks—and patients. So not only must you plan for increased patient volume from vaccinations, you must compensate by decreasing patient volume elsewhere.
Your staffing configuration will vary depending on your site set-up and needs. For example, if you are using mobile check-in, you won't need a staff member to ask COVID screening questions. However, you may still need a staff member available to communicate with patients—and give them additional instructions—depending on how patients answer screening questions during mobile check-in. But since that staff member interacts with patients only as needed, they are freed up for other critical tasks.
Another position you'll need to consider is someone to monitor patients during the observation period immediately after vaccine administration. While you can certainly use automated, post-vaccine check-in calls to verify any side effects, the CDC recommends a 30-minute immediate observation period.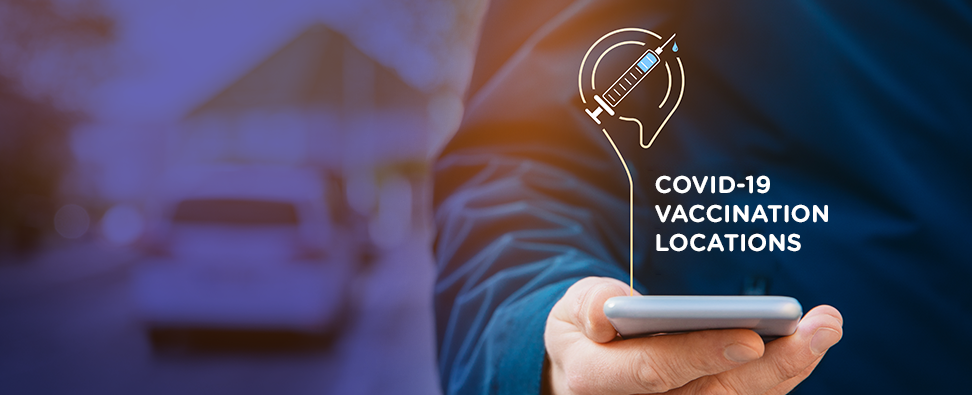 3. Patient Communication
For successful, large-scale vaccine administration, patients need to know:
Where to show up—especially if you have multiple locations or even entrances (i.e. some practices have a "sick entrance" and a "well entrance")
When to show up. This includes their original appointment time, but can also include scheduling updates. For example, an automated queuing system can notify patients if their appointment is running behind (even before they leave home), thereby avoiding crowding by allowing the patient to wait off-site.
What to do when they get to the vaccine site. You may have a staff member serve as a patient navigator, assisting patients to find their way once they arrive, help ensure social distancing, and assist patients through the entire vaccination process. But you can alleviate the burden for in-person staff with a combination of mobile updates and digital signage.
Once patients are checked in—via a check-in kiosk, for example, updates on their mobile device plus digital signage in your waiting area and throughout your location can guide the patient flow, direct patients on what to do next, and update queuing information.
Of course, patient communication doesn't really end. From ensuring patients get their second dose, to keeping in contact regarding any potential vaccine developments (like boosters, for example), you'll be keeping in contact with patients long after their initial visit.
Whether your organization is a retail pharmacy, public health organization, hospital, or medical practice, you'll face distinct challenges with COVID vaccine implementation. When it comes to incorporating vaccine implementation into your existing workflow, a customized combination of solutions will allow you to reduce staff burden, maintain optimal patient communication, and increase the efficiency of your COVID vaccine program.