72% of banks in Latin America operate with big data
The pandemic revolutionized the financial industry in Latin America since 72% of the companies that offer banking services consider big data, machine learning, and artificial intelligence are essential for their growth and operation strategy. This set of tools helped improve accessibility issues in the financial sector, quality standards, and customer experience, according to the Refinitiv machine learning 2020 report.
Part of the opportunities that the financial sector found in the last year such as virtual assistance, video call management, and virtual queuing, belong to the catalog of solutions that ACF Technologies has offered for years. The Vice President of Operations of the company, Erick Mejía, maintains that there is a before and after 2020 in the financial industry, since "paradigms" were broken in the user experience and in new consumption habits since even past users say "they learned to do things that they did not know how to do before."
"COVID-19 did not take us by surprise, we had been contemplating these internal changes for 4 or 5 years. We had already thought that customer service models cannot be passive, especially in customer service platforms from banks that waited for the customer to call them. That model worked fine, however, it is not adapted to the current situation we live in. They went from a passive to an active model. Brands went out to find customers. Omnichannel has changed since customers assumed that I (as a company) can come into contact, not necessarily through call centers or agencies, but through videoconferencing or voice calls," he said.
Companies in the region will invest in big data for years to come
The statements of the Vice President of Operations of ACF Technologies, Erick Mejía, are supported by the latest figures from Statista on the market for big data and analytics in companies in Latin America, where it is stated that the market will go from generating $4.96 billion dollars in 2020 to $8.5 billion dollars by 2023. Meanwhile, figures from a recent Refinitiv report maintain that 40% of companies in Latin America continue to accelerate their investments in machine learning to optimize their customer service.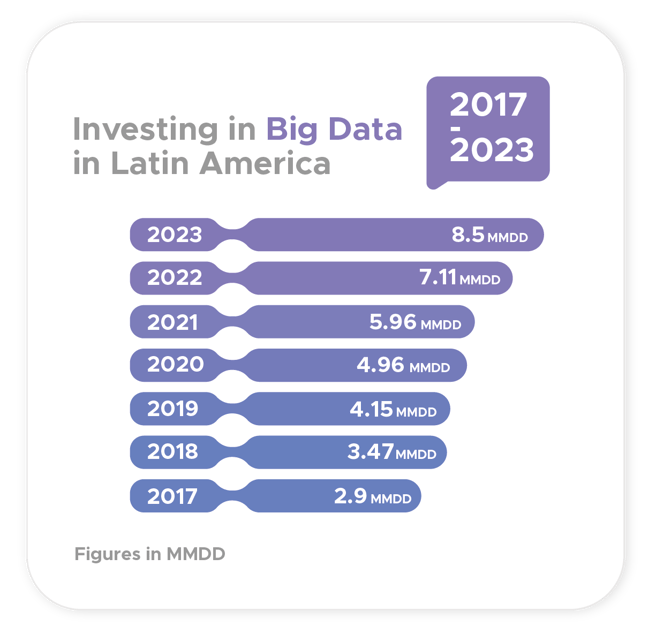 Likewise, another report from the telecom services firm "Infinera" indicates that in the last year, the financial ecosystem in Latin America underwent a complete transformation through new technologies, such as Big Data, Artificial Intelligence, Machine Learning, and even blockchain. For the director of consulting and engineering at ACF Technologies Latam, David Mejía, the key to success in user experience is the personalization of data for better customer service, that is, the company "does not install the system for the customer to guess its configuration."
"We offer a powerful tool that can solve many problems. We work in several verticals, in fact, we generate clients and transactions with orders. In the customer experience part, if it is a sales area, the tool helps you eliminate customer churn. Then you have a technological solution that adapts. We can make complex transactions with robots through a BPM and generate all types of experiences."
"When you automate a process, you could do it wrong, so one of our areas that has grown a lot due to the level of specialization is consulting, which helps the client to design processes before automating them, or if they are already there, check, analyze, and reengineer. Apart from the control, it collects data that we use for designs. It is something very powerful," she expressed.
Since this year, one out of every three financial transactions in Latin America are digital, a still low figure. But with large areas of opportunity in the region, banks have demonstrated in recent months the ability to become platforms with the availability of multiple services and digital solutions that offer speed, convenience, and personalization, something that customers constantly demand. In fact, 72% of the world's largest banks already have a programming interface (API), according to Red Hat.
Digital Banking has a great future in Latin America
Data from Andreessen Horowitz shows that any financial product tailored to the customer and at scale has an "incredibly large" market in Latin America, as it is an addressable market with the ability to attract customers dissatisfied with its financial services. The region is home to more than 650 million, and more than 30% do not have access to financial services and only 31% have access to credit products. The potential is such that Latin American banks are among the most profitable in the world. However, 80% of bank deposits are concentrated in the main banks in the region, since they are the only ones that accelerated the improvements in their infrastructure in recent months, while the remainder continues without making the corresponding changes to attract customers and a greater number of clients.
For ACF Technologies Vice President of Operations, Erick Mejía, banking and telecommunications institutions have made the biggest changes, such as: integration of CRM services with agencies and platforms with personalized services, reconfiguration of business cycles (such as Dynamika), and identification of each type of customer and their availability to consume or require services (such as ACF's Marketing One to One service), which leads to the development of precise algorithms with a very low margin of error.
"It is important to develop algorithms where banks and companies are able to search for the customer, not in a massive way, but in a personalized way. We want to make better use of resources and take advantage of the platform. Omnichannel is not just video conferencing. I noticed that during the pandemic, people wanted to be served from the website and the problem with these portals is that they lacked intelligence. From the classic queue model, the queue to the call center, there are corporate queues where customers are getting into the queues at the bank, where they ask a thousand questions at the same time with corporate requests. And they can be heard through the website or Facebook, or WhatsApp," he pointed out.
The digitization of payments with banks in the region is an irreversible trend since it is expected that by the end of the year, 1.5 billion people in the world will use digital financial services. Likewise, in the last year, the Latin American countries where digital payments grew the most are: Argentina, Peru, Colombia, Mexico and Ecuador, whose figures range between 50% and 67%.
In addition, the study exposed the main transactions that are mostly carried out through digital channels in Latin American banks: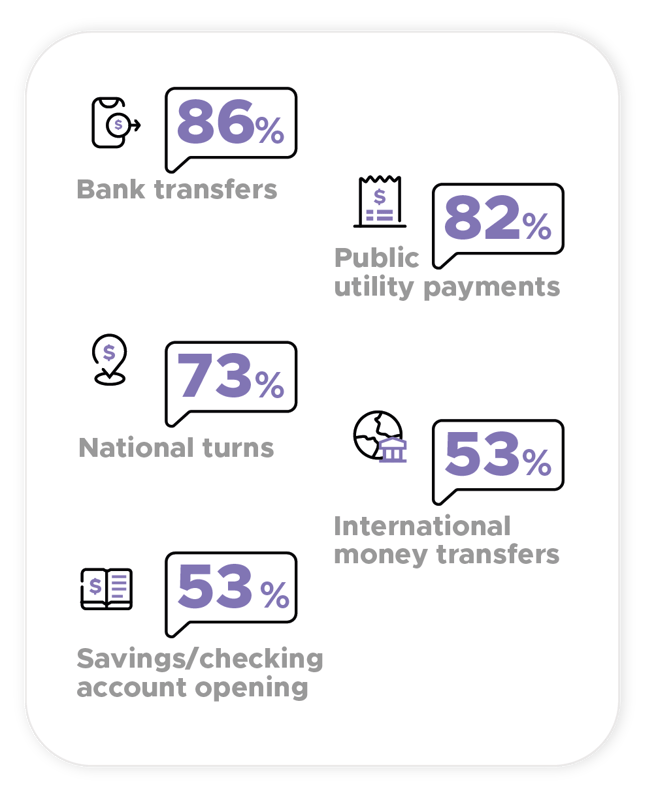 The financial sector in Latin America continues to grow rapidly and demand digitization services. The demand for digital services in the sector will continue to expand with annual growth of 5.69% until 2025, as banks need to improve their queue management, video calls, attention on mobile devices, and exchange of information and applications through the Internet of Things scheme, according to an Arizton Research report. Queue management is one of the specialties of ACF Technologies because, through automated software, customers make better purchase decisions, and bank staff is more organized, therefore, it is easier to plan services and resources for both the short and long term.
If you believe that big data, machine learning, and artificial intelligence should be part of a growth and operation strategy, contact us and try a demo!