The past few years have ushered in new digital trends in customer service, shifting customer dynamics in financial institutions.
The banking industry has felt the pull towards positive change as more people seek secure digital options to manage their finances.
A study by BGC shows that in 2020, online banking increased by 23% and mobile banking increased by 30%.
As a result, banks are digitizing as many processes as possible to create a more streamlined and positive customer experience.
Mobile and online banking are not new developments, but digital service options are in higher demand than ever from customers. Alternative financial service providers have leveraged technology to compete with traditional banks. To keep up, it is important for these institutions to invest in infrastructure, personnel, digital services, and to take an omnichannel approach.
A strong customer retention strategy involves much more than digitizing face-to-face services; the financial sector must also offer a more personalized customer experience. A report by Tengo and The Economist Intelligence Unit took data from 300 banking executives globally to show that 81% of banks (4 out of 5) seek to differentiate themselves more through the customer experience than through their product offerings.


4 keys to improving the customer experience with a human approach:
In what aspects can banks invest and improve features to positively impact their customers? Financial institutions can implement these action items to move toward an ideal customer experience:
1. Increase options by being flexible:
While statistics show growth in digital services, some consumers prefer more personal interactions. Banks should offer both digital options and face-to-face interactions through branch visits and calls. For example, in countries like Spain, the digitization of banks was already underway when they realized the need to include human interaction again. Seeing a need for digital transformation after the pandemic, the bank put aside all its face-to-face components, reduced hours and personnel, and focused on having a strong virtual structure. But they forgot their audience of older adults, who usually prefer face-to-face service, or do not have the skills to handle everything that virtual banking brings with it.
This realization drove the decision to:
Extend the hours in physical branches
Open an exclusive telephone line for elderly care
Simplify the app interface

With both new and old customers in mind, our Appointment Booking tool allows those who prefer physical channels to schedule their appointments at the branches, without queues and without long wait times, guaranteeing the best experience.

2. An authentic and differentiating CX:
Companies typically see a huge reduction in costs as automation makes processes more efficient. These savings can be used to hire staff that interpret customer data and use it to understand their needs and create hyper-personalized services that promote satisfaction and loyalty.
Among the solutions offered by ACF is the implementation of BPM, which identifies an organization's strengths and weaknesses, allowing it to be more flexible, efficient, and competitive.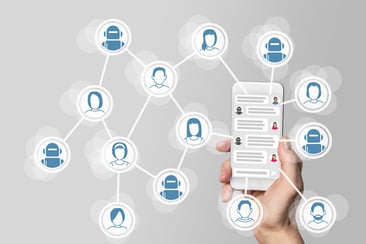 3. Identify value propositions:
To deliver an ever-improving customer experience and broaden product portfolios, banks can start by adding valuable services for their customers. A banking institution typically has around ten value propositions for its customers, including opening an account, lending, saving, and transacting. A successful redesign of the processes and the portfolio of services can bring reductions in costs and an increase in the services offered to clients.
A value proposition that is gaining traction is hyper-personalization. This is a new strategy that companies can implement to change the way they direct sales and marketing to their customers. Automation and AI can be used to collect and analyze data so that the target audiences can be reached with specific messages at the right time, place, and channel. This allows for a sophisticated predictive experience, offering products and services that customers need in the future.
According to a report by the Mckinsey Institute, "Consumers don't just want personalization, they demand it. With store and product loyalty more elusive, getting it right matters. Roughly 75 percent of consumers tried a new shopping behavior in the last 18 months, and more than 80 percent of those intend to continue with new behaviors."
4. Automation with human interaction:
Implementing automation is key, but without completely disregarding the human element that also characterizes customer service. When implemented effectively, automation supports issue resolution while helping employees streamline their customer interactions. The key is to create a synergy in the customer experience between face-to-face and digital relationships, rather than a complete substitution of one for the other. Considering unique customer needs will help the financial sector determine the best digitization strategy for them. Automation can provide financial institutions with the following benefits:
Reduced operating costs
Increase in the number of clients and in ROI
Efficiency in data-driven decision making
Time optimization
Improve user experiences
Prioritize and order cases


In the digital paradigm, banking entities will have to adapt to serve clients who prefer traditional banking as well as those who opt for a digital approach. Both must be offered the same services and the same attention.
At ACF Technologies we offer automation solutions and expert advice to help organizations balance the digital and the human aspects of their business. Contact us or schedule a demo to learn about how we can help your organization transform the automated customer experience.