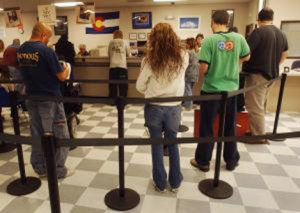 The Colorado Division of Motor Vehicles calls it the "Wait Less" program, and similar programs are used in other states including California, Wisconsin and Florida. Some theme parks use reservation systems to help cut long wait times for rides.
"This service is designed to save time by letting people schedule their appointments before coming to the DMV," said Gov. John Hickenlooper, a Democrat who introduced the program Thursday. "That is a huge improvement from the old way of doing business, where people never know how long it will take until they get to a DMV office."
The service will allow Coloradans to schedule appointments on the Internet. Once they arrive at the DMV office, there's a check-in kiosk station to speed things along.
Barbara Brohl, executive director of the Colorado Department of Revenue, which oversees the Division of Motor Vehicles, said additional services will be available at the kiosks. "We should soon be able to help our customers change addresses, register to vote and renew online at the kiosks," Brohl said. "We also hope to add customer text-message notifications, so people can avoid waiting on site. With a text message, they can be called back just in time to be at the front of the line."
Right now, the service is available only at the DMV's Lakewood office at 1881 Pierce St., though the agency plans to extend that to the Denver Central Driver's License office at 1865 W. Mississippi Ave. by the spring.
By the end of the year, the state hopes to roll out the service to 11 other offices in Aurora, Boulder, Colorado Springs, Denver North East, Fort Collins, Golden, Greeley, Littleton, Longmont, Northglenn and Parker.
Authored by: Tim Hoover
Published by: The Denver Post