Companies use digital transformation and technological advances to place the customer at the core of their business strategies.
To meet challenges surrounding the customer experience, organizations have had to rethink their tactics to deliver experiences that delight and retain increasingly savvy customers. One of the key solutions to this new challenge is to implement customer-centric strategies.

Customer Centricity is one of the most outstanding strategic trends of recent years. Although the name itself indicates that it means "customer-centric", to achieve an exceptional customer experience it is necessary to understand the term in depth and study some effective techniques that drives its success.

This strategy consists of developing a customer relationship management that puts their needs at the center. The choice is based on a deep understanding of the buyer profiles that interact with the company, analyzing their needs, their motivations, and their pain points. The company will work at all levels to provide a solution to the specific needs of their customers.

In turn, this implies developing a good customer journey, knowing the customer's profile, and knowing what resources to invest in each of these stages.

"The Customer Experience is capable of providing a critical competitive advantage in an increasingly saturated and similar market."
Joseph Jaffe.

In other words, organizations will understand who their consumers are, how they react to the product or service, and how related they remain to it. This allows the interaction with customers to be adjusted according to their specific profiles, creating a more successful and satisfying experience.

The digital transformation of companies has driven customer-centric strategies thanks to the current ability to automate processes, as well as the ability to understand and collect data from them. Given the massive data collection and our digital tools, it is possible to create an accurate profile for each customer. With such detailed knowledge of customers, companies can make use of micro targeting to improve the experiences they offer.

According to HubSpot statistics, 41.33% of consumers say that companies "generally" meet their expectations after a request or complaint. In addition, 31.67% considered that they do so only occasionally. Finally, only 11.17% believed that companies always meet their expectations.

Based on these statistical results, we can infer that meeting the needs of our customers is an important factor for brand loyalty. For this reason, we must pay attention to the needs of our users, know their trajectory in depth, and quickly detect weak points, allowing for quick solutions to any problems that may arise.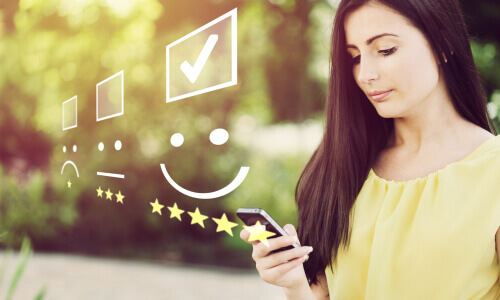 How to create a customer-centric approach for your business
Know your customer
In order to make sure your tactics are going to have positive results, you must know your customers. By utilizing digital surveys and questionnaires, it allows you to anticipate possible problems and provide solutions to fit each customer's needs.

Invest in your employees
Having a satisfied and well-trained team will result in a more positive approach when interacting with customers. This involves changing the business culture to be centered around the customer by training each employee how to utilize the tools that allow them to successfully help the customer. Thus creating a work environment where employees are knowledgeable and confident when meeting customer needs.

Clear communication channels
It is important to facilitate communication with your customers. To do so, it is essential to provide omnichannel options. At ACF Technologies we have Q-Flow®, a platform that drives all our solutions to streamline all processes and create better experiences for customers.

Implement a successful BPM
BPM allows managers to have more knowledge about everything that is happening in the company. With this method, it is easier to clearly define activities and coordinate them, as well as identify opportunities to improve results. Everything can be seen on a dashboard, displaying results in adequate time to act on them. The objective of integrating a BPM strategy is to ensure that managers carry out their activities in a profitable and efficient manner, thus being able to coordinate strategies that give the company a competitive advantage.

Track your results
It is important to consider every interaction that takes place with your customers. By monitoring processes and tracking results, you can see trends and predict future trends in your clientele. Doing so allows you to provide better customer satisfaction across all areas.
Great Examples of Customer Centricity:
Walt Disney Company
Walt Disney Company is a leading entertainment company with global success. It has adapted to changing environments on the plus side of 100 years. Their consumers continue to be the driving force behind their strategy and their success. Here are some main characteristics that help them maintain their customer-centric approach:
They do not let reality influence the imagination of customers. Taking time to enhance every detail is key in their process.

They have

a very well-trained staff across all areas, thus guaranteeing that each member is efficient at creating work that is suitable to keep customers satisfied on a global level.

Parks have next-level security systems and specialized teams that ensure a safe environment for customers, essentially improving customer satisfaction.

They are constantly evolving and transforming to stay on top of the digital world, creating experiences that their consumers never forget.

They use digital tools to improve waiting times and facilitate transactions through an application called "My Disney Experience". Magic Bands wearable technology streamlines processes within the park.



All of these factors have contributed to incredible success, a seemingly insurmountable customer satisfaction rate, and brand loyalty across all their franchises.
Amazon
Jeff Bezos, founder and former CEO of Amazon created a company that is driven by customer satisfaction. His philosophy ensures that the company stay focused on always moving forward as if it were "Day 1".
Jeff has a team that is responsible for responding and evaluating each comment that arrives in their inbox. This is a great strategy that allows direct communication between the user and the company.

They use Big Data tools and predictive analysis to recommend future sales to their users.
The retail conglomerate also uses its recommendation algorithm to personalize the online store for each customer.

Alexa, one of its most famous products, is integrated with Amazon, allowing its users to make purchases with their voice or inform them about the status of the shipments of their products, among other things.



Amazon plays an important role when creating a good relationship with its customers, ensuring that their customers are heard and providing quick solutions to any issues that may arise, creating strong brand loyalty. With the use of digital tools and a good CEO strategy, the company has positioned itself as one of the world's most used and most relied on platforms.
At ACF Technologies we know that the changes required to adopt a customer-centric attitude at the organizational level takes time and commitment.
Through time, developing customer-centric strategies will improve communication with your customers, allowing your business to improve customer satisfaction that results in greater brand loyalty.
Learn more about how taking a customer-centric approach can help your company. Contact us or schedule a demo today.