Retail 5.0 is the invisible tool that achieves customer goals and expectations through a customer centric approach.
What is Retail 5.0, and what does that mean for Customer Experience?
It's the way most of the global population access products and services. The sales journeys are based on the customer's centricity and independence. In this new era, customers decide what to consume, how to do it, and its means. They also have the choice to share (or not) their data to allow retailers to personalize their journeys according to their demands and preferences.
Customer Experience (CX) is all about simplicity and good communication.
Enterprises might think it's all about addressing the customers and providing them with what they didn't know they needed or wanted. But that's not the case in Retail 5.0. Customers know what they want and want to get it in a simple and agile way. So all communications channels must be open for them and act for the CX to be user-friendly and attractive enough for people to choose that proposal and keep on doing so.
Consumers have the power. So, why not fulfill all their needs and service expectations?

Technology keeps on evolving and making services and actions more manageable. Thus, it is no surprise that the Customer Experience will grow in the years to come. But what does that imply for CX and Retail 5.0?

Whether consumers choose the online or physical world, most agree that: the consumers must personalize products and services, what they experience through the sales journey is as important as what they are consuming, and consistency is expected.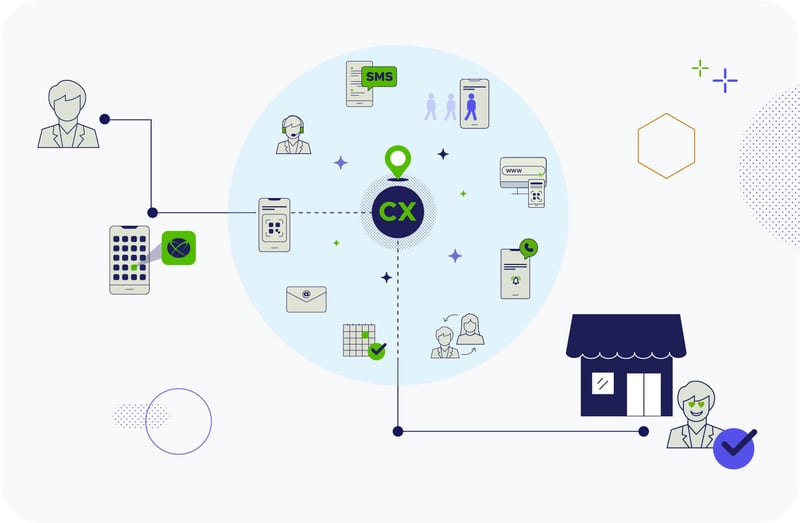 So, when thinking forward, businesses have to consider:
Customer satisfaction: provide and engage the channels customers are looking on. It's not about conquering the virtual world; it's about being where customers are and providing them with what they are expecting, such as interaction, information, and a good experience.
Reduce wait time: being immediate and providing customers with what they are looking for shows how committed the business is to their satisfaction and importance. No one wants to feel they are wasting time; if so, probably it's that buyers won't choose that path again. So, it is essential to show that time is as important as the products and services they choose to obtain.
Use new technology in a responsible and friendly way: knowing your business and your targeted audience's needs is crucial when considering what technology assets to add to the CX. For example, AI can present difficulty when it implies adding an extra step to the sales journey. Customers may feel overwhelmed or that they are wasting time. It is not going to do a better job if AI is in the way and not helping. Sometimes, creating a new experience or improving what the company already has, is better than adding fashionable assets, but not valuable for what the commerce is providing.


Retail 5.0: the next worldwide retail
Every business wants to succeed. And to do so, it is crucial to know what customers want and how they want it.

But the CX road is not easy; constantly changing and challenging in every sector.

The critical challenge is to understand the product delivery pace and global flexibility. Next, it's to know the business and what people want when choosing it.

Businesses must know which marketplaces are worth operating in and how to set up strategies for their retailers. Being proactive and understanding the customers' needs makes a difference between one journey and another.

Innovation in retail is not about counting on the latest technology but using it smartly and proactively for a better service.
The future of retail with ACF Technologies
In ACF Technologies, we have one mission: to trade normal for extraordinary.
The goal of ACF is to drive sales with outstanding service and provide enterprises with the CX needed to fulfill customers' expectations.

By providing a platform that assists with all channels, facilitating real-time appointments, hosting virtual and physical events, and helping from anywhere, among other services, ACF aims to enable business process management and take the CX to the next level in which customers feel part of an experience that invites them to choose and recommend the brand over and over again.
If you are interested in learning more about how ACF Technologies can help your Retail Customer Experience Strategy and increase customer satisfaction, please contact us today.