Bring your pharmacy into the future by eliminating dated processes and streamlining customer flow to improve your customers' experience.
A top priority for any organization that revolves around healthcare is making sure its customers feel as at ease as possible.

Pharmacies are no exception.

The more stress you can take out of the process of ordering and collecting medication, the more likely you are to have happy and loyal customers.

The latest appointment booking and virtual queuing technology empower pharmacies to transform the customer experience through automated patient reminders, virtual queuing, and more.

Here's a closer look at how the latest technology can transform the customer experience in your pharmacy.
Make waiting in line a thing of the past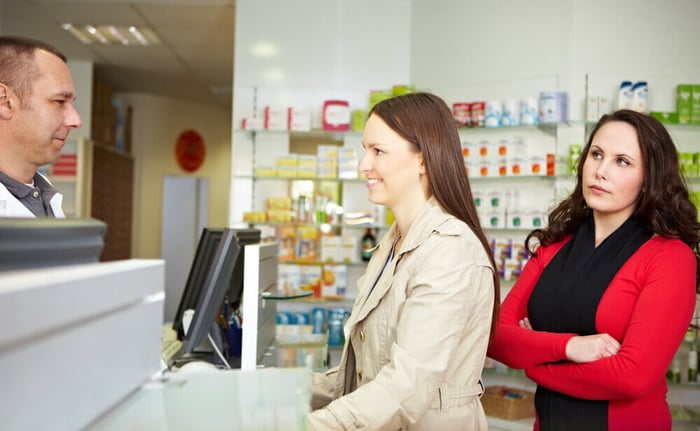 No one likes to wait in line. Today, your customers don't have to.

Install a virtual queuing system and they can check in to your pharmacy remotely from their smartphone. They'll then be updated about their place in line, the estimated wait time, and when they should arrive through push notifications.

Rather than sit twiddling their thumbs in your waiting room, they can wait at home, do some shopping, or enjoy a coffee at a nearby café until it's time to pick up their prescription.

Virtual queuing software can even reroute customers to another branch if they could be seen sooner there.

And fewer people on your premises means shorter perceived wait times for customers who do choose to wait on-site, streamlining the process for everyone.
Reduce no-shows
Are no-shows a huge cost for your pharmacy?

Online appointment scheduling can significantly reduce the number of customers who don't show up to their appointments.

SMS and push notification reminders keep appointments in the front of your customers' minds. Each reminder gives your customers the option to reschedule or cancel the appointment with just a few taps of their smartphone.

When a customer reschedules or cancels an appointment through Q-Flow, the slot they've canceled becomes available for other customers to pick. If it doesn't get filled, the system will automatically offer this slot to customers who've joined your virtual line, streamlining your services without your staff so much as lifting a finger, allowing them more time to focus on important tasks.
Streamline staff scheduling (and reduce stress)
Q-Flow doesn't only make managing appointments easier, it also streamlines staff scheduling, automatically planning rotations around busy periods. This ensures you always have enough staff available to handle all your scheduled appointments without getting overwhelmed, but you're not paying for staff you don't need during quieter spells.

Since a queue management system automates appointment scheduling, customer communications, and check-ins, your staff is free to give their full attention to providing the best care and customer experience to everyone who walks through the door. Plus, they'll be spending a lot less time dealing with disgruntled customers who've had to wait in a long line – something they're bound to thank you for.
Streamline check-in
Systems like Q-Flow® integrate with hospitals and medical centers to create a digital footprint for each customer that's updated in real-time. That means instead of having to ask your customers to fill out long forms at reception, you'll have instant access to their relevant medical history.

Repeat prescriptions can be added directly to a patient's profile where they can be amended, extended, or canceled with a few taps of a smartphone screen.

In locations where pharmacies require more information from their customers, you can send them a simple online form to fill out before they arrive for their appointment. Instead of having to hurriedly fill out a paper form at reception that you'll need to add to your digital system later, customers can simply submit their information over a coffee at home and it goes straight to your database.

This helps reduce perceived wait times on your premises and streamline your processes. Plus, it ensures your customer has access to any supporting documents they need to complete a form rather than arriving at your pharmacy and realizing they've left them at home.

Once your pharmacy has instant access to your customers' relevant medical history and has automated their repeat subscriptions, the process of ordering and collecting medication from your pharmacy will be so seamless that customers won't need to look for another pharmacy.
Get real-time customer feedback
Real-time feedback from your customers can be an invaluable tool when it comes to improving your services. Q-Flow collects this data automatically through simple push notification surveys triggered after someone has finished an appointment.

This will help provide each of your branches with detailed feedback on everything that affects the customer experience, from how helpful your customers thought your staff was to the quality of the service they received.

You can use this data to alter your service, then measure the impact of each of the changes you implement in real-time. This will help you quickly improve the customer experience – and ultimately boost your bottom line.

Queue management and appointment scheduling software is a cost-effective tool any pharmacy can transform the customer experience from the bottom up. Make ordering and collecting medication as stress-free as possible for your customers and transform the customer experience in your pharmacy.
Want to learn more about how Q-Flow can help your pharmacy provide the best customer experience? Schedule a demo today.