As the way customers shop and meet with loan officers changes, most business owners are left wondering how they can adapt to this new normal. What is normal anyway?
With 131 countries around the globe continuing to implement social distancing procedures, consumers demand a way for businesses to accommodate large crowds while being able to provide the everyday services that they need — such as grocery shopping, banking, and visiting retailers.
Services like virtual queuing may be the missing link that these industries need to organize the chaos and thrive in this new normal. And, it can scale to fit various needs even as the environment changes.
Limit Traffic
One of the biggest challenges grocery stores, retailers, and banks are struggling to overcome is the balance of how many customers are in their facilities versus the number of customers who want to be. This leads to long lines outside the door and conditions that create hostility and stress.
With virtual queuing, customers can check-in from the safety of their vehicles and you can invite them in when it's their turn. This helps to promote social distancing and gives your customers a comfortable place to wait — keeping them out of the elements in case it's raining.
Some virtual queuing options offer a QR code that needs to be scanned once a customer reaches your location. Once scanned, they join the queue and can return to their vehicle until their turn. Other options include a platform where customers can digitally sign-in to join the queue. Either option provides data to your team to identify how long someone has been waiting and how many people are currently in the queue.
Offer Appointments
While appointments are a fairly common occurrence in the banking industry, they aren't typically associated with the everyday banking experience of talking to tellers nor the shopping experience. But, with virtual queuing solutions, you can leverage an appointment-like process to navigate high-traffic peaks and mitigate the number of people waiting in your virtual queue.
Appointments are something that customers are familiar with — from their healthcare providers to their government entities. Now, you can use the same familiar process in their banking and shopping experiences to improve wait times and manage occupancy.
Customers can sign up for a time when they'd like to come to your location. You can limit the number of people who can book a specific time slot to help manage the number of people who are visiting your store or facility. This also allows customers to find a time that works best in their schedule without visiting your location only to find that there's a long line.
Manage Staff
Virtual queuing solutions give your team an overview of how much traffic to expect and provide insights to your management team for how many staff members are needed on-site. Data points can show the peaks and valleys of high-traffic time frames throughout the day. They can then use this data to adjust schedules and reduce the need for staff members on the premises.
By offering pre-reserved shopping times, you can plan the reduction in staff ahead of time. But, even with a virtual queue that lists the number of customers waiting to enter your store or financial institution, you can still make adjustments as needed — allowing more breaks for your staff to promote their mental health and improve performance.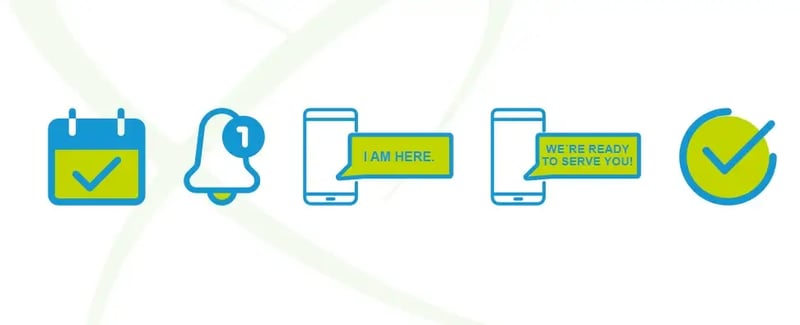 Q-Anywhere — A Robust Virtual Queuing Solution
Unlike other virtual queuing solutions, Q-Anywhere accounts for every step of the customer journey — from appointments to virtual queues to the post-shopping/banking experience. Assistant Anywhere makes it easy for customers to book appointments. Check-In Anywhere gives them the option to sign in from their vehicle and enter a virtual queue without talking to your staff. And, Wait Anywhere gives them the freedom to wait from somewhere comfortable — whether that's their car in your parking lot or from a nearby coffee shop improving their experience and security.
By implementing a robust virtual queuing solution, you can make the natural transition to the new normal without missing a beat. You'll also provide your customers with more fluid ways to interact with your staff and help reduce their stress during an ever-changing time. For more information about Q-Anywhere, contact our team today.