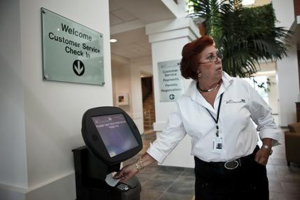 WELLINGTON — Lisa Castro was standing in the Village Hall lobby, checking out the new touchscreen kiosk where visitors can sign in. Castro, 40, was applying for a landscaping license Thursday. First, however, she had to figure out the kiosk. "I've never used one before," she said sheepishly. After choosing the "business license" category, the electronic kiosk spits out a white ticket with a number on it. About a minute later, Castro's number is announced over the public address system and displayed on the 42-inch flat screen mounted on the wall. "That was pretty fast and efficient," Castro said. "I just signed in and that was it."
The village installed the kiosk this month to help manage lobby flow and better direct customers to the proper departments. The device, which cost the village less than $20,000 to install, is the same one used at the Palm Beach County Tax Collector's Office. Residents can pay their water bill, apply for a building permit or take care of an outstanding parking ticket. Before, Wellington used a red ticket number system, much like the one seen at supermarket deli departments. "Our staff would have to shout across the lobby for the next number," said Janet Silva, Village Hall's customer service manager.
Another advantage of the new system is that it's supposed to place the customer with the correct department. That didn't always happen with the old system, said Tom Amburgey, a Wellington spokesman. "Not everybody at every station knew how to do everything," Amburgey said. "I may be here for a water bill, but when station 4 was open, that person didn't know how to take water payments.
"This system knows what customers are here for and only the people who can do certain tasks will get that customer."
In any given week, 300 to 1,000 people use the system, Amburgey said, with Mondays and Thursdays being the busiest days. Before installing the system, Wellington researched and analyzed it for six months, Amburgey said. Wellington officials were impressed with how fast customers were able to move in and out of government offices. The village also liked that it could track how long customers waited and which services offered were most popular. "We can analyze where we need training, where we need more staff, where we need different staff or where we may have to streamline services," Amburgey said.
Still, Amburgey added, the system needs a few tweaks. For example, the village wants to add more options to the kiosk so it'll be easier for staff to know what a customer wants. Under "planning and zoning," there are only two options. The village also wants to add a payment category under "building permits."
Those changes should be in place by Thursday, Amburgey said. Sometimes customers who are busy talking on the phone mistake the lobby's hand sanitizer for the new kiosk, said Romina Wirz, a volunteer staffer.
"They're just not really paying attention," Wirz said, chuckling. Like Castro, Tony Lamarca, also looked a little confused by the kiosk at first. Having just moved to Wellington, Lamarca, 57, came to Village Hall to turn on his water and said he was impressed with the kiosk. "It's hi-tech and looks pretty cool," Lamarca said.

Authored by: Kevin D Thompson
Published by: The Palm Beach Post