State Government Offices
As one of the largest constitutional offices in the United States, a midwestern state government office anticipates receiving a significant number of visitors, surpassing most other state governments.

Because of the number of people requesting services, the government agency sought an appointment booking system. Their goal was to reduce the challenges associated with long lines and become a model agency for citizen satisfaction.

This led them to Q-Flow's online appointment scheduling and ACF Technologies.
The Challenge
This state agency has one of the largest and most diverse collections of responsibilities of any of its counterparts nationwide. These duties are divided among 20 departments employing approximately 4,000 people. Their responsibilities include maintaining multiple office buildings, overseeing the state's network of libraries, preserving some of the state's most precious historical documents, and much more.

For many citizens, the 120 offices located around this state are the place they visit for a new driver's license, ID card, or license plate – a process that has been described as time-consuming and frustrating, largely because they were one of the 11 remaining states that didn't take appointments.

The pandemic was the catalyst for change. Social distancing measures meant citizens couldn't wait inside any of their offices. Instead, they had to wait six feet apart from each other in lines that wrapped around the building and into neighborhoods. This meant citizens had to stand outside for hours during the cold winter and sweltering summer to access the service they needed.

A project team was tasked with reducing lines at the offices and improving wait and service times.
Challenges: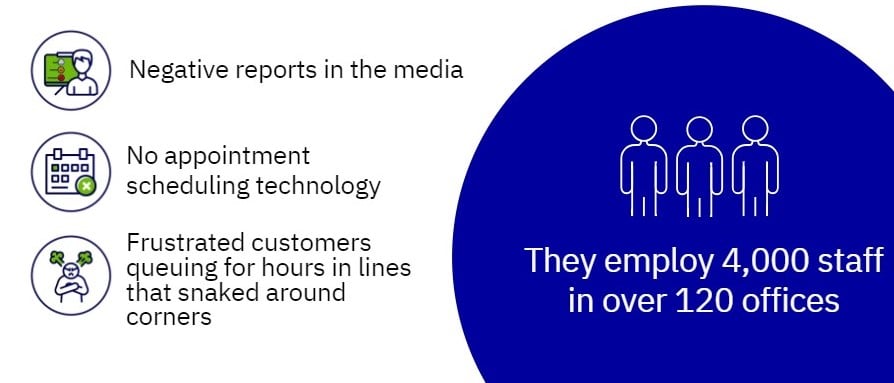 Opportunities
Already a customer, ACF Technologies advised their project team to extend their Q-Flow platform to include online appointment scheduling. The project team also researched how other agencies had solved this problem and discovered the success and stability of large-scale enterprise implementations of Q-Flow's online appointment scheduling by ACF Technologies. This gave them the confidence to expand their investment in Q-Flow.
The Solution
In 2014, their offices used Q-Flow to introduce a ticketing system. This allowed people visiting an office to take a non-service-specific ticket and join the end of the line.

This wasn't ideal before the pandemic when lobby areas would regularly swell to 300 people. However, a solution became necessary when social distancing measures came into place and hundreds of citizens at a time were forced to wait outside, regardless of the weather.
Reasons for Choosing Q-Flow Appointment Scheduling
In researching a suitable solution, the project team consulted other states. They wanted to pinpoint a simple solution to their problem, learn from their peers' successes and stumbles, and implement a solution within 90 days – something unheard of for government projects.
It quickly became clear that what was needed was an out-of-the-box appointment booking system that could be adapted to manage a hybrid model of appointments and walk-ins. Essentially, they wanted
their seniors and VIPs to be able to still walk in without an appointment.
How Q-Flow Was Used:
Today, the numerous offices of this agency no longer issue citizens with a ticket when they arrive on-site. Instead, all appointments are made online or over the phone so staff can better manage customer flow and prevent overcrowding.

To make this shift, it was imperative to ensure their website was easy-to-use, even for people who aren't very computer savvy, so every citizen can manage their appointments online.
ACF, therefore, helped them develop an appointment management system with an identical interface for both citizens and staff. This allows call center workers to easily help people navigate booking and managing an appointment, as they're using exactly the same system.

ACF also helped to adapt this system for visually impaired call center staff who must handle 1,500+ calls a day.

Most appointment booking systems offer the same features. But at ACF, our technical teams collaborate with you to implement a solution aligned with your specific needs. Our team can leverage decades of experience to provide you with what feels like a system that's been tailor-made to your exact demands at the speed of an out-of-the-box solution.

This was made further possible by the depth and width of ACF's skillsets when it came to customer service and the ingenuity behind finding solutions.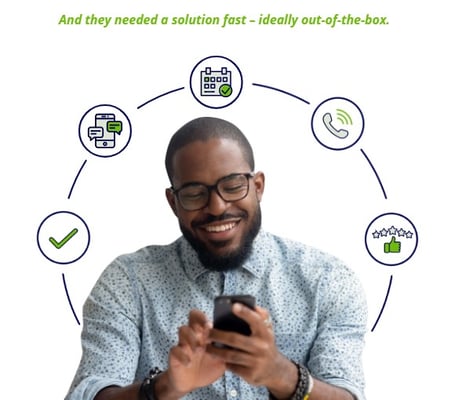 The Results
The solution implemented by ACF in the numerous offices has effortlessly handled well over half a million appointments in the six months since it went live.

Since implementing Q-Flow's online appointment booking software, lines of up to 300 people in queues snaking through neighborhoods outside the offices are a thing of the past.

Instead, around 20 citizens at a time are being served in a calmer, safer, and socially distanced environment without any drop-in service.
When the agencies were only utilizing a basic ticketing system, citizens were having to take the day off work for an appointment because they simply had no idea how long they'd be waiting in line – or whether they'd even be seen. Now, citizens arrive on-site for their time slot and are served straight away, making for a far smoother citizen experience.
It goes without saying that this has also made for a much less stressful environment for staff. Employees had to spend long periods outside assisting customers and checking documents. Now they're inside serving customers, and operations are more efficient than ever while employee morale has improved across every office. When people walk into one of their offices and they see a calm, organized environment they're less anxious, and that's half the battle won right there.
Want to know more?
Is your organization crying out for the kind of queue management system that's transformed this government agency's wait-time problems?
We are more than happy to investigate how we can work with you to transform your customers' experiences every time they interact with your organization and dramatically increase your operational performance. Our experts value the opportunity to combine their knowledge and experience with technology that enables an improved journey design and optimal customer experience.
Request the PDF