There's no doubt about it… Airlines and eCommerce giants have raised customer expectations about how we interact with an organization across all industries. Online check-in, delivery notifications, and e-ticketing have streamlined our interactions with these companies.
Now, more than ever, building a competitive advantage means raising the technology bar to improve customer experiences. Your customers expect to interact with your business on their terms. And that means being able to access your services from the comfort of their homes.
Whether you're providing services to patients, clients or citizens, and no matter if you're a small clinic or are a household name like Vodafone or Davivienda, virtual queuing technologies combine to help your organization deliver remarkable customer experiences.
So read, learn, and get started transforming customer experiences… right away.
Step #1: Allow customers to schedule appointments online
Whether you're a bank, healthcare provider, or a government facility — such as the DMV — online appointment scheduling makes it easier for customers to book a visit.
Like us, most businesses don't operate 24/7. However, online booking systems give customers and patients the flexibility to manage their appointments regardless of your office hours. Not to mention, removing the time it takes and the potential for human error associated with scheduling an appointment over the phone.
Online appointment scheduling gives your customers the power of choice — which is really what they want.
Step #2: Send appointment notifications and reminders
Customers and patients appreciate regular communications. Appointment scheduling systems give you the ability to send appointment reminders, alerts of service delays, or notifications of when test results or other pertinent data is available online.
By sending appointment notifications and reminders, you streamline communications with customers and patients between appointments — which keeps them informed.
Step #3: Offer customers virtual appointments
Virtual appointments give customers and patients access to your services from virtually anywhere. Be it a local coffee shop or the comfort of their living room, a notification containing a secure link lets them know that it's their turn to speak to an agent via your secure, interactive video session.
Real-time video appointments are just like face-to-face consultations. Whether it's a patient that feels under the weather or a small business owner applying for a loan, you can provide them with the same level of care and attention that you would give them in-person.
Agents and customers can share their screens and exchange files seamlessly and securely. Patients can use this feature to share their medical history, or your small business owner can share signed documents.
And, once the appointment has ended, you can use the automated messaging system to follow up with reminders, receipts, and other pertinent information.
Virtual appointments are not only convenient, but they also have the added benefit of streamlining your operations while humanizing the digital experience.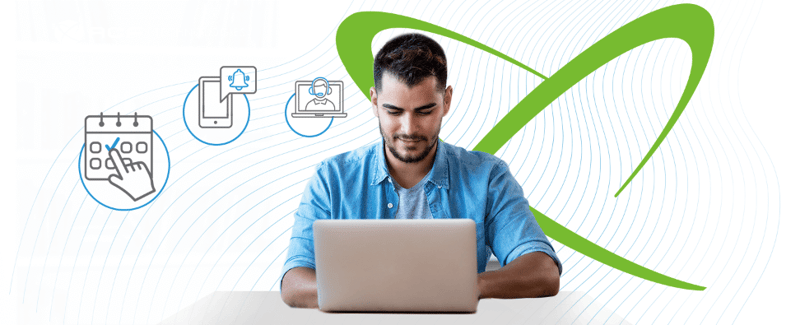 How ACF Technologies Can Help You
Our Assistant Anywhere application combines online appointment scheduling, virtual queuing, and real-time video sessions to connect customers to your organization, regardless of their location.
This capability not only empowers your employees to deliver services more readily, but it also increases customer engagement, streamlines operations, and improves customer experiences.
With Assistant Anywhere you can:
Humanize digital interactions between your customers and staff
Personalize your customers' digital experiences
Increase organizational productivity
Lower costs per interaction
Move clients to a more efficient engagement channel


For more information on Assistant Anywhere, contact us today!