The retail industry is betting on in-store events to make a difference in the market. Here's everything you must know about it.
In-store retail events may have crumbled during COVID-19, but they are not dead. In fact, in-store events are still an essential part of the marketing world.
In-store events are an excellent way to create a community of consumers for your brand. It creates connections and provides brands with several opportunities to promote their products among their audiences without hard selling. More than 75% of marketers agree that live in-person, live (hybrid), and online events are valuable brand assets.
The question is how businesses can get back on the road with in-store events. How can brands create a successful in-person event that reaches their ideal audience?
Nowadays, customers are getting more selective about the brands they choose to associate with. The in-store experience can help you stand out from the crowd. These events are an opportunity to engage with customers and invite them to experience the brand in person.
According to the Forbes article "The 5 Biggest Retail Trends For 2023", there will be a comeback for in-store events but with a twist.
One example is the hybrid shopping experience. Retailers are looking to deliver a seamless experience across all shopping methods. This includes online, in-store, mobile devices, social media, and even live streaming.
At the same time, augmented reality (AR) complements these experiences and entertains and educates customers along the way. It shows the value of the products and benefits of products that are less popular, less mainstream, and more expensive.
AR windows and digital in-store displays engage prospective shoppers and drive brand awareness, which is one of the best ways to connect with customers. Moreover, the average shopper makes three unplanned purchases in four out of 10 stores they visit. So, AR does not only serve as a more attractive way of addressing customers, but, most importantly, they solve a problem that has been persistent for ages: the lack of ability to measure effectiveness.
AR displays can track and capture real-time analytic data while sharing a dynamic and updated experience. Unlike billboards or bus advertisements which are 100% static.
A business that serves as a great example for this case is PacSun. The brand rolled out anAR-centred campaign with Emma Chamberlain as part of its spring-summer '22 drop. In Soho, New York, PacSun shared a campaign featuring a window-shattering, wave-crashing AR storefront video display during the summer season.
To make this possible, retailers must count on consistent and accurate data. After synchronizing the information gathered, retailers can offer more personalised individual experiences, whether online or in-person, the information can make a difference, and customers can count on better experiences when they are getting to know the brand for the first time or purchasing.
Another trend mentioned by Forbes is store design shifts and mixed-use experiences. This trend is focused on in-person events being differential. "Mall developers and community leaders are leaning into the concept of mixed-use space that offers shopping, living, dining, and other community spaces that serve a specified market". In the US, this kind of experience is rising. In fact, New York's Governor Hochul recently announced a $26 million mixed-use development to provide high-quality housing and commercial space in Oswego as part of its Downtown Revitalization Initiative. While in the UK, in 2021, there has been a decline in department stores which gave space to more mixed-use experiences, which appear to be not only an innovative solution for brands but provide local economic improvement.
There are more benefits to in-store events than just innovation and economic improvements. One example is pick-up scheduled dates. Many retailers are adding special features like this to support new shopping initiatives such as curbside pick-up, fulfilment from stores, and pick-up in-store.
Another trend to have in mind is live shopping helps customers to feel closer to the brand while delivering a highly personalised omnichannel customer experience. From delivering product demonstrations to answering enquiries via video to completing complex and high-involving purchases, live shopping can make a difference on CX. Through Video Appointment Scheduling, customers can book a video consultation with experts worldwide.
This experience has made a marked change in China and is now arriving in the occidental stores. 2023 is expected to be the year in which this shopping alternative finally takes off. In fact, Coresight Research estimates that Livestream's e-commerce penetration will grow from $20 billion in 2022 to $57 billion in 2025.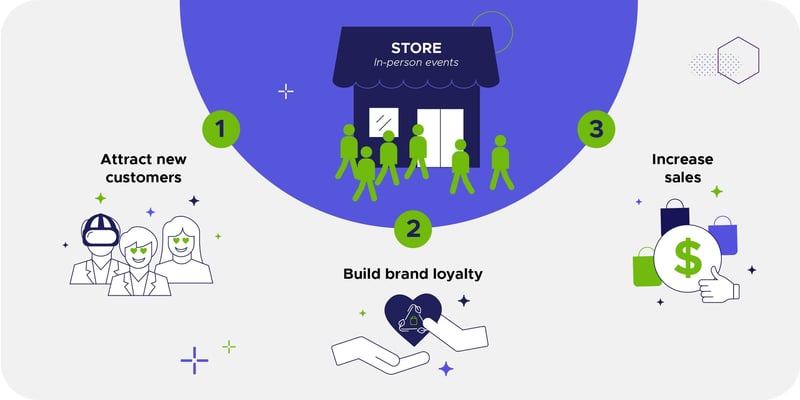 3 benefits of in-person events
Attract new customers




After COVID-19, customers are looking for experiences that invite them to shop in-store instead of behind the screen.

59% of consumers

confirm that the ability to feel, touch, and try the product makes shopping in-store preferable to online.





By hosting in-person events, your brand can attract outside customers that may not experience the brand before through ads or digital content. These people that otherwise wouldn't have known the brand have the chance to experience the brand first-hand.






Build brand loyalty


By attending in-person events and experiences, over 40% of customers feel that they become more loyal to brands.

Organizing events can help brands demonstrate their processes committed to social and environmental impact, for example. And, at the same time, provide information and an exclusive experience to its attendees. These experiences invite customers to think first of what they have been through in-store events, resulting in more loyalty to the brand.



Increase sale




In-perso

n interactions encourage customers to purchase more things and commit more to the brand (as previously mentioned).

Hosting retail events invites people to interact with the brand and live the store experience, guiding customers to choose the right products for them, resulting in increased sales.

91% of customers assure that being part of in-person retail experiences convinces them to purchase.
In-store experience: how to make it extraordinary
When you are ready to get started, your store will need to trust the best technology in place to improve its customer experience. Here's where ACF Technologies comes in.
At ACF we provide customer experience management solutions which seamlessly integrate stores, call centres, and front-line support. This eliminates lines, prioritises individuals, and targets customers with personalised sales information and support transactions.
75% of customers expect an omnichannel experience, while 59% expect on-demand, anywhere, anytime customer service. Retailers need to act and be productive to satisfy customers' expectations.
At ACF Technologies, we aim to make the online and in-person experience as swift and customer friendly as possible for each brand to show the best of itself and the experience they can provide.