Make a significant transformation in local government by applying digital transformation to provide new solutions to every day challenges.
According to Gartner, by 2023, at least 85% of governments that do not prioritise consumers' experiences with public services will fail to improve service delivery successfully. Local governments must prioritise a more human-centred experience or risk falling behind.
To create an experience-led institution, employee experience (EX) and customer experience (CX) must be at the centre of every decision. These are currently a top priority for the majority of municipal governments.
New expectations, and everyday needs
People are at the heart of local government.
However, local government struggles to provide the best service delivery experience for their staff and citizens.
Government services are under enormous pressure to match the citizen experiences provided by retail chains, for example. Citizens want services to be intelligently delivered through the appropriate channel, with the appropriate message, and at the appropriate time. This, however, is not always the case.
It is not as challenging as thought to meet citizens' expectations and, as a result, improve how they interact with government services.
Estonia is a clear example of a successful process; its investment in digital transformation has demonstrated that:
Councils must adapt to residents' expectations for 'on-demand' services.

Online services and investments in digital technology must be linked with measurable communication strategies to encourage its usage.

Communication teams must work more closely with customer service to create a significant impact.



Estonia made it possible, and the rest of the continent is trying not to fall behind. But there are many challenges and experiences to take into account. For example, according to a McKinsey study, while digital delivery of government services may sound tempting to 50% of the population, the other 50% remains an "analogue" client with traditional preferences and needs.
In other words, many citizens are in the centre, opting for multi-channel options or a combination of digital and personal services.
Video consultations: a seamless solution for citizens and local government
For several years, the United Kingdom has applied a considerable adoption of software as a service (SaaS) technologies. Today, the British government should thoroughly examine how to accomplish more with less by establishing a consolidated service that integrates various instruments and channels. And at the same time, avoid further problems in the event of a new infection or a global difficulty.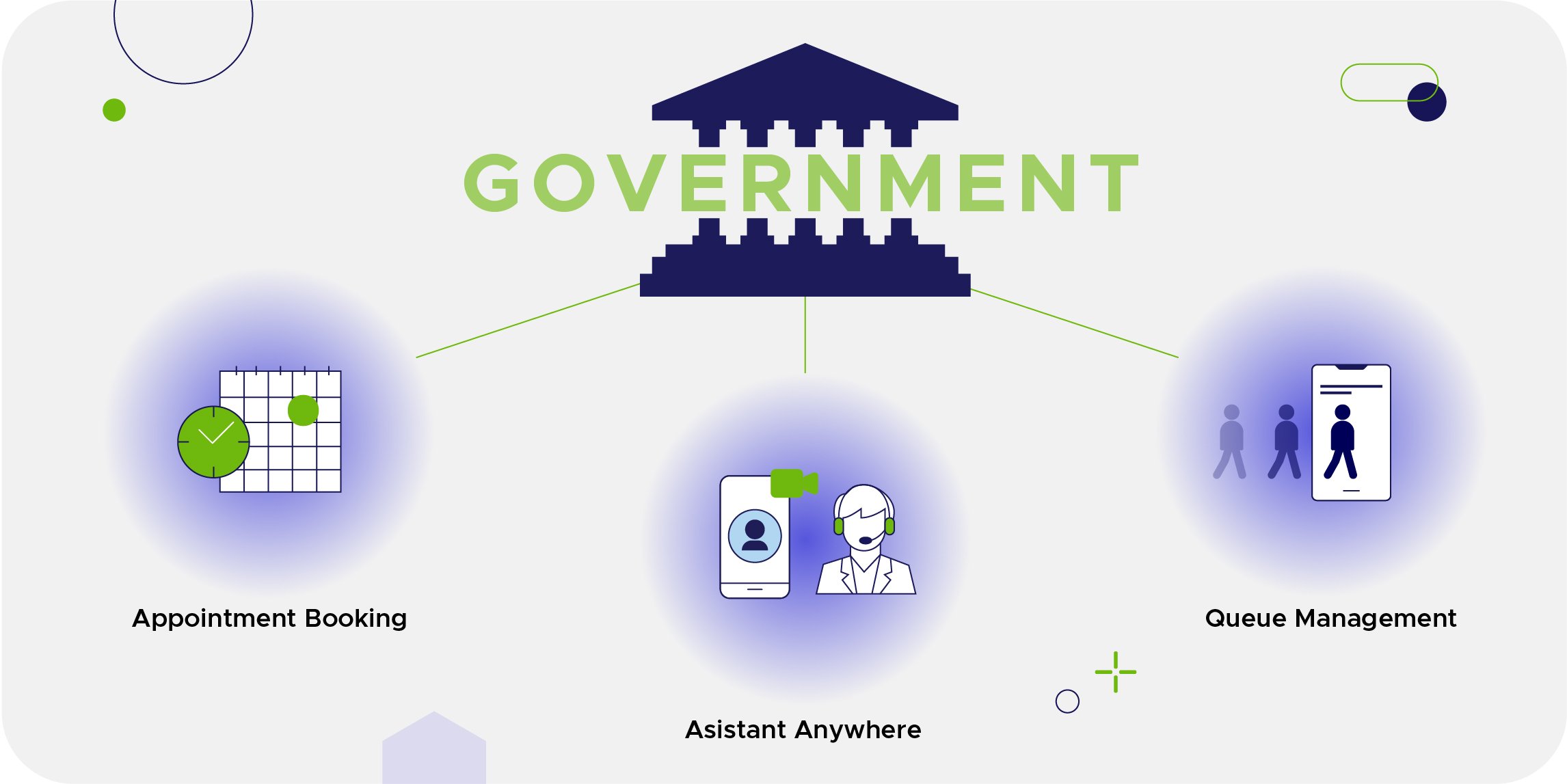 3 assets that can boost CX and EX no matter the global context:
→ A smart software that counts with a powerful API which makes it easy to plug powerful appointment scheduling system straight into existing mobile apps, web pages, and internal applications.
→ Helps government and its department to be in control. Since the staff will be able to block periods of times and schedule a maximum number of appointments per slot, for example.
→ This automated system provides a seamless citizen experience from the moment they make the appointment to when check in on-site.
→ Resulting on citizens no longer having to make long lines and wait or forgetting about their appointments. This reduces no-shows and provides a friendlier experience.
2.- Assistant Anywhere & Real-time Video Technology
→ Is a software that helps institutions to improve and communicate with citizens in a more personalised way, no matter location or time. It can also help local government to:
Lower the cost of internal meetings & cost-per-interaction.

Increase staff productivity.

Make council proceedings more accessible to citizens.



Deliver a user-friendly virtual experience.

Reduce wait-times.

Provide hybrid customer service.

Enable accessible and flexible appointments.

Offer real-time solutions.
The ability to video stream key meetings and provide face-to-face support in real-time can increase community participation and provide staff with the appropriate technology, encouraging employee engagement and implying that councils can help and reassure people during times of turbulence.
3.- Queue Management
→ Is a set of processes that helps to organise and control citizens' waiting experience. Queue Management System can take different forms while helping improve CX, like:
Self-service check-in.

Easy management of walk-ins and appointments.

Customer tracking and reporting

Physical barriers.
Queue Management can also send automatic notifications with expected wait times.
At ACF Technologies, our mission is to improve CX and help each industry to take a step toward the virtual world.
Through digitalisation, the British government will be able to gather information and feedback from each individual but, at the same time, improve the way people interact with each other and provide solutions that can make a significant change in the world we live in today.
How to take the next step towards a digitalised world?
The answer is here.