Learn how appointment booking software can help to enhance patient experience by allowing customers to manage their own journey.
When it comes to the healthcare experience, reality does not always match patient expectations. A clear example is what happens when a patient wants to book an appointment. Although appointment booking software has been available for some time, most healthcare professionals and facilities are not putting it into practice and reaching its full potential.
Nowadays, patients are expecting digital resources that allow them to arrange appointments at their own convenience, enabling them to prepare for the visit on time and have the booking scheduled in their digital calendar.
The gap is between patients that know what they want and need and providers who are not listening. But, things must change if pharmacies expect to increase their revenues in the years to come since patient experience is the core of it.
What patients want and need: telemedicine and online pharmacies
In many markets, such as in the United Kingdom, the government has allowed pharmacies to give advice and prescriptions online. This has resulted in large retailers such as Boots offering online appointments. Even pharmacies that do not offer online consultations might benefit from the e-Pharmacy market by offering digital appointment booking.
The e-Pharmacy market is predicted to grow 15.2% between 2019 and 2024 since pharmacies that provide online consultations and e-prescriptions are one of the fastest expanding segments worldwide.
Most patients want a method that's easy to understand, access, and coordinate. They want to feel empowered and track their healthcare decisions. According to Salesforce's survey, 71% of people that access healthcare feel responsible for managing their own health, yet only 23% believe the healthcare industry has the technology to enable them to manage their own treatment.
This is most likely due to healthcare companies' failure to provide digital solutions to satisfy patients' needs, and patients see that. Salesforce's study found a strong link between the availability of consumer-oriented web technology and the likelihood of patient-provider relationships with high trust.
As a result, there are many reasons why enabling online booking appointments with a pharmacy may be helpful for patients and pharmacies.
Yes, appointment booking is beneficial for both patients and pharmacies
Being a pharmacy that offers online appointment booking can give considerable benefits for both pharmacies and their patients. The convenience of online booking gives pharmacies a competitive advantage over healthcare facilities that do not provide this option.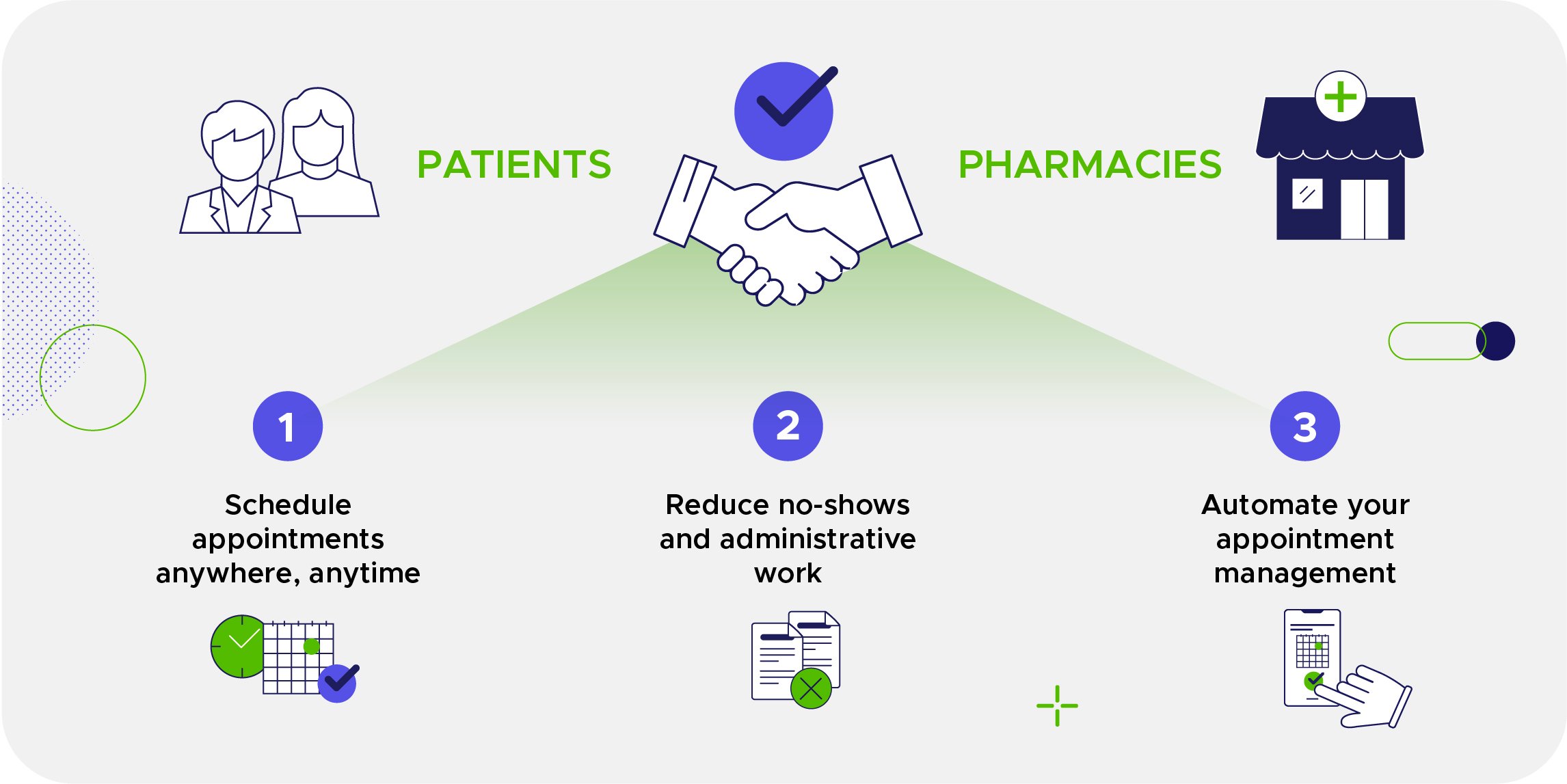 There are many reasons and advantages when implementing online appointment booking software, such as:
Schedule appointments anywhere, anytime
Patients can schedule appointments at any time, no matter their location.
ACF Technologies' Appointment Booking Software offers integration with customer record software for pre-registration and appointment qualification.
This makes online booking ideal not only for customers who have the liberty to book their appointment from any device but also for pharmacies that need an integration that's suitable with their program.
Reduce no-shows and administrative work
Being an online appointment-based pharmacy allows you to increase the number of appointments you accept without increasing customer service or administrative work for your personnel. For starters, having online booking in place eliminates the need for customers to phone or email to schedule an appointment. Booking forms will collect all of the necessary information for the appointment. These appointments can then be programmed to be automatically or manually authorised.
At the same time, since appointments are digitally stored with time and location, patients will also receive push notifications to be reminded of their appointment. Allowing them to also re-schedule or cancel their visit and notify the pharmacy.
Automate your appointment management
Our appointment booking software, in addition to queue management, provides insights on appointment scheduling habits, enabling pharmacies to optimise the patient experience by avoiding excessive delays and allowing patients to know the estimated wait time, their position in the queue, and the information they need to have in hand for the appointment.
Take the next step with ACF Technologies
Most patients enjoy the convenience and privacy of online pharmacy booking and telemedicine.
Offering these services is not only beneficial to patients, but it can also help pharmacies expand their market reach while cutting administrative costs.
Pharmacies that take advantage of existing technology will have a significant competitive edge over the next five years.
Book a demo and let us help you be part of this experience and improve how patients see you.