ABOUT FUDEM
FUDEM, a visual health clinic, is a non-profit private foundation, which has been providing integral visual health services for thirty years. FUDEM offers services that are accessible to every Salvadorian, primarily focusing on those with low incomes.
FUDEM currently has eight visual health centers across El Salvador. It additionally has mobile units that travel to neighborhoods, homes, and farms that do not have access to the services traditionally offered by ophthalmologists.
These visual health centres and mobile units rely on a medical team composed of qualified ophthalmologists, general medics, interns, anesthesiologists, nurses, and optometrists whom offer multiple services including:
Consultation and general ophthalmology surgery

Consultation and glaucoma surgery

Consultation and retina and vitreous surgery

Consultation and oculoplastic surgery

Cataract surgery

Laser procedures for diabetic retinopathy

Laser procedures for capsulotomy, iridotomy, selective laser trabeculoplasty

Laser procedures for retinal tears

Procedures for intravitreal injections of antiangiogenic agents

Diagnosis by fluorescein angiography, coherent optical tomography, and ocular ultrasonography

Special exams: including campimetry, specular microscopy, and biometrics
The Challenge
FUDEM wanted to initiate a digital transformation that would allow them to manage their patients' experience better, starting by organizing its appointments management system to optimize the flow of patients and the distribution of medical attention schedules. FUDEM successfully implemented Q-Flow's appointment and queue management system to achieve these objectives.
During 2018, the number of visits in different centers increased significantly, culminating in more than a thousand daily consultations across all the health centers belonging to the network.
All this growth generated another managerial dilemma for the health professionals who worked at FUDEM: how to handle patient records by creating new, combined forms, which could be managed electronically. Overall, they wanted to simplify their form capture to include information that they use routinely. They needed an electronic file which could combine the following four elements:
Data capture form
Preliminary form
Ophthalmology physicians form
Optometry forms


By simplifying their data requirements, FUDEM was unknowingly taking another important step in the digital transformation of its health centers. ACF technologies' agents were on hand to provide them with the most appropriate solution for their needs.
By integrating one of ACF's specialized patient care tools (Viewmed) they were able to roll out the use of this new electronic file to immediately create the patient's profile and electronic medical record, much more efficiently than it had been possible to do in the past.
The Solution
The logical solution to the challenge of dealing with so many patients in so many remote locations was to implement the Q-Flow queue management system. This would allow patients to manage appointments by using FUDEM's call centers while creating and integrating digital electronic medical records in a single digital location.
By analyzing FUDEM's needs and requests, ACF's digital transformation agents proposed that it would bet better to roll out this solution in a progressive manner to avoid any negative impact on the patients' experience.
Given that FUDEM specializes in comprehensive services in visual health, ACF made sure that changes were made to the existing software in order to accommodate established ophthalmological formats, and incorporate FUDEM's four forms.
The Results:
The benefits of digitizing the FUDEM care centers were immediate:
Arrival control before each center opening

Appropriate management of the centers' different resources (doctors, nurses, operating rooms, and clinics)

Optimization of waiting times

Patient satisfaction improved, through the proper calendar booking management

Medical staff satisfaction improved with the electronic medical histories tool, since the same forms that they routinely handle in a paper-based format was now available digitally

Regarding the transition: the ease of use of the Q-flow system allowed staff managing the solution to be trained quickly

In the short time since putting the system in place, there has already been a drastic decrease of paper usage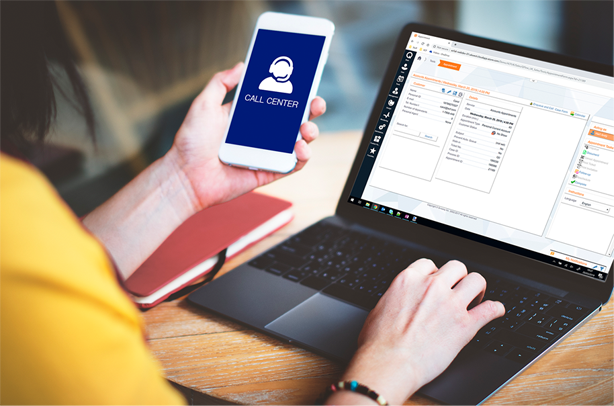 Future Projects
To continue advancing towards its digital health transformation, FUDEM has expressed its desire to move on to a next phase. This phase will potentially include the:
Incorporation of a telemedicine platform for scheduled video consultations and emergencies

Acquisition of a PACS system for the storage and visualization of imaging studies

Visualization tool for laboratory studies performed by the patient

Integration of these solutions to the patients' electronic medical history
Download Case Study