Improve student experience with Appointment Booking Software. Simplify class registrations, automate administrative tasks, and streamline staff's work schedules.
Appointment Booking Software can be extremely beneficial to higher education. From allowing students to register for classes and events online to automating administrative tasks at the school and assisting in the planning of teachers' work schedules. It benefits both parties and helps to improve the efficiency of higher education institutions.
3 Reasons Why Universities Should Use Appointment Booking Software
Education administrators face the challenge of meeting students' expectations for managing their everyday lives. With young students accustomed to seamless digital experiences in various fields like shopping and banking, they now seek a straightforward method for scheduling appointments and classes on their campuses.
Appointment Booking Software not only gives students control over their time, but it also allows them to lower stress levels because administrative replies are faster and more efficient.
Boost students' experience by providing them with cutting-edge technologies that enable easy appointment booking for students, teachers, and staff members.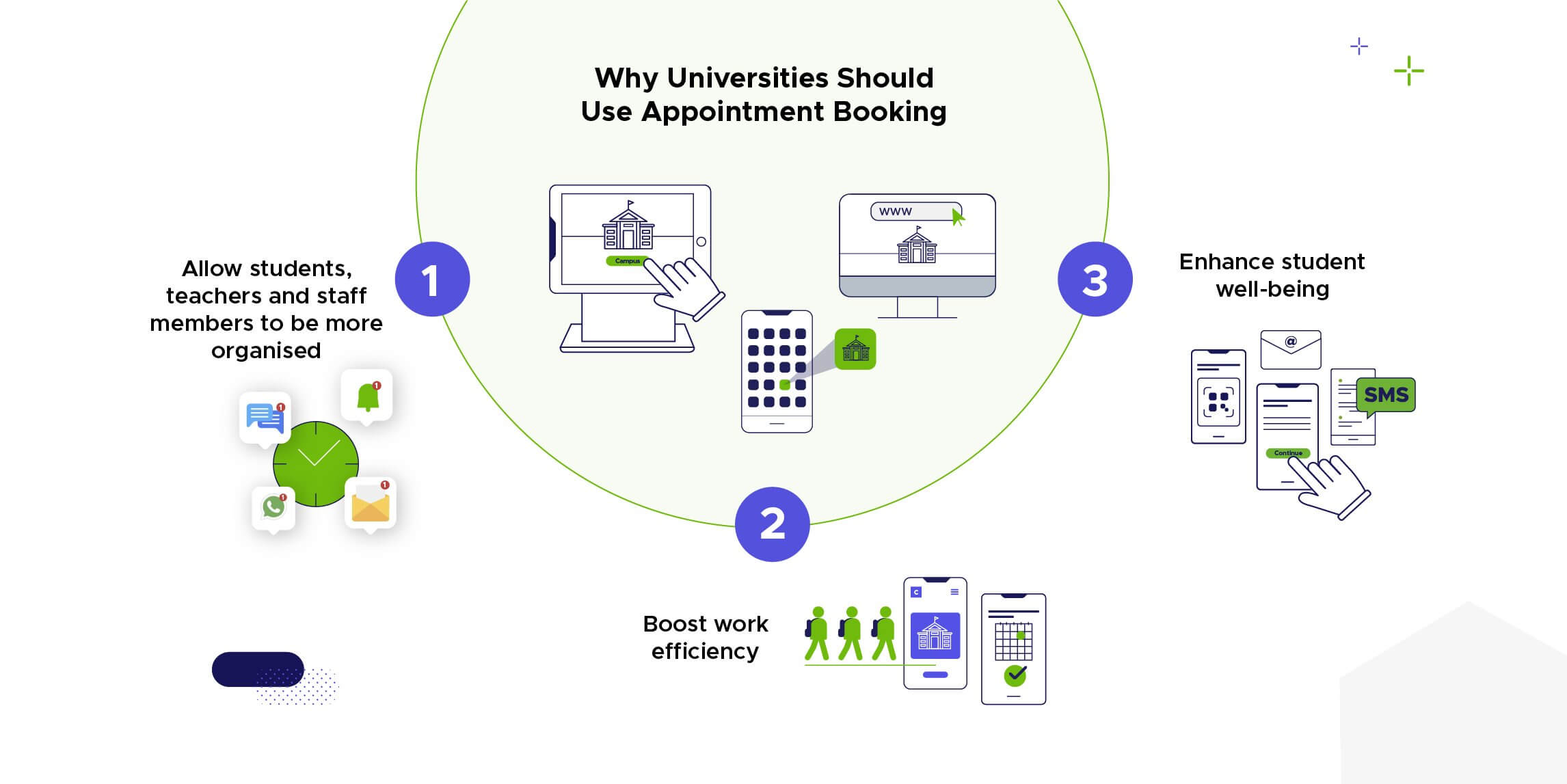 This streamlined process helps both parties stay organised, enhancing their overall experience at university.
Allow students, teachers and staff members to be more organised
Book appointments with teachers, administration, librarians, and lab technicians and be in control of their own time.
Receive reminders and push notifications to reduce no-shows.
The solution streamlines all types of appointments – walk-ins, calls, and video and shows real-time availability for students.
When appointment booking is unavailable, we also offer

virtual queuing

where students can join queues anywhere at any time.


Boost work efficiency
University students have busy schedules with lectures, seminars, extracurricular activities, and social meetings to attend. They often feel the pressure to make the most out of their university experience. However, waiting in long lines to access college services can be a significant hindrance. Our appointment booking software aims to eliminate this inconvenience, allowing students to seamlessly access college services without wasting time in lines, and enabling them to fully enjoy their university experience without unnecessary delays.
Appointment Booking enables the automation of manual processes. This also provides administrators and other members of staff more time and space to focus on the students. Simultaneously, this programme assigns the most skilled or specialist workers based on the requirements, promoting an inclusive atmosphere.
Enhancing student well-being
Students will experience increased freedom to study or socialise with friends when they are able to book classes, and appointments with tutors, or staff members with minimal wait times. By providing timely information and enabling streamlined services and omnichannel experiences, students will feel more independent and empowered in managing their academic and personal needs.
When students have the ability to select, institutions notice the difference.
Instead of standing in a long unproductive queue, students can use their time as they see fit and wait to be told when it is their turn to be seen with a system like Q-Flow in place.
Make a Difference in Your Organisation with ACF Technologies
With Q-Flow, make a positive impact on your students' and staff's lives and day-to-day tasks. With our cutting-edge technology, you can reduce their stress, save them time, and improve the way they communicate. Learn how we do it with our University of Hertfordshire case study.
You can also schedule a demo with our team and our experts tell you all about it!